The shortlists for this year's AfricaCom Awards have been published and, across the 12 categories, they display the full range of innovation underway across the entire communications sector in Africa.
The awards, which "celebrate the achievements of the best companies, solutions, products and personalities improving connectivity and driving Africa through the fourth industrial revolution," will be presented at a gala dinner on the evening of November 8 at the Waterfront LookOut, Granger Bay, Cape Town, starting with cocktails at 7pm.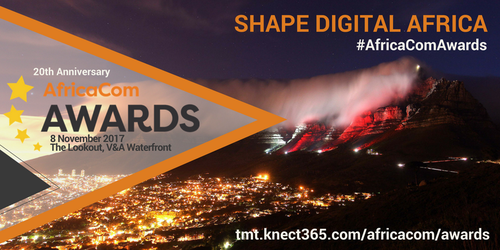 Check out who won last year by reading Celebrating Digital Africa: The AfricaCom Awards 2016
Here, then, are this year's shortlists:
Best Network Improvement
This award recognizes the most successful initiative from an operator and/or a vendor that has significantly improved the performance or coverage of a network in Africa since the end of November 2016.
Shortlist:
Vodafone Wholesale, Ghana - Fibre connectivity to the West African sub region
Mauritius Telecom - Accelerated FTTH Deployment
Liquid Telecom - Pan-African VSAT Service
MTN Nigeria - The world's 1st CloudAIR GU@5MHz launched in MTN Nigeria
Huawei Technologies - Build the Best Network in Africa – Kenya P3 Score Improvement
Delivering Excellence in Customer Experience
Placing the customer in the spotlight, this award recognises a company or initiative that has provided a compelling customer experience. For example that could be through developing an integrated CEM strategy, utilising data innovatively, or considerably improving mobile user experience.
Shortlist:
CommProve - QuantiQa NG
Mahindra Comviva and Airtel Africa - iPACS – Unified CRM and Convergent Billing Solution
Mahindra Comviva and Orange Cameroon - VAS Retailing Solution
Liquid Telecom - Listen, Measure, Understand and Improve
Orange - Business Care
MTN & Huawei Technologies - Customer Experience Management (CEM)
Best Network Function Virtualisation solution
This award is open to companies capable of demonstrating successful use cases of virtualization technology/ network and be able to share the details of facilitating this deployment in the past 12 months. Companies should have devised an innovative use case of the solution to make it successful.
Shortlist:
Parallel Wireless - HetHet Gateway enabling ease of deployment and maintenance for ANY G cellular network
ECI - LightSEC for Critical Infrastructures
Ericsson - Ericsson HDS (Hyperscale Datacenter System)
Huawei Technologies - ICT Transformation Through Huawei's NFV Solution
Changing Lives Award
This is where ICT meets socio-economic development and inclusion. This award will celebrate a product, initiative or social enterprise that is having a life-changing impact on individuals or communities in the region.
Shortlist:
WTL - Building wholesale networks in Rural Africa
Orange - Sandji-Senekalé
Orange - Cycle M
BrightWave Technologies - Telecommunication (metro broadband network)
UNHCR – Smart WiFi Kiosk
COCA COLA/EKOCENTER - EKOCENTER
RippleNami, Inc. – rWAVES
iSON Group - IT and ITeS Services
Nokia - CodeBus Africa
Most Innovative LTE Service/ Application Deployment
This award recognises the best LTE core network development solutions, which will aid development of the core to support LTE networks & services that will be deployed over them. Companies should be able to demonstrate/showcase user case study where the solution has been used and share details of why & how it's been successful.
Shortlist:
Ecocarrier Inc. - MRESENCE - Presence in Mixed Reality and its application in cloud-based managed services for TeleMRedicine, CollaboMRation,
Alepo Technologies - BSS Transformation
Parallel Wireless - Making LTE deployments as easy and as cost-effective as Wi-Fi
Telkom & Huawei Technologies - Telkom (CSB) Consumer and Small Business powered by Huawei LTE Solution
Best Innovation in Broadcast - Broadband Convergence
This award is for the most innovative product or service in which video content is being distributed across Africa. This could be a new OTT service, or a technolgy that provides an enhancement in the way content is being viewed on the continent.
Shortlist:
Orange - #Débloqués
Orange - TV Everywhere
Telkom & Huawei Technologies - Telkom LIT_ Service
Next page: Six more shortlists