South African IT Spending to Grow 2.4% in 2017 – Gartner
Total IT spending in South Africa is set to reach 266 billion Rand (US$19.75 billion) this year, a year-on-year increase of 2.4%, according to forecasts by research firm Gartner.
The segment with the biggest growth is software, where investments are expected to increase by 13.2% this year and by a further 12.4% in 2018.
"South Africa has traditionally underinvested in IT," said John-David Lovelock, a VP and distinguished analyst at Gartner. "South African organizations continue to prioritise investments in software, as software spending is the means by which they will catch up with the rest of the world," he added.
Not every segment will experience growth, though. Rising prices and the expectation of new products are expected to hit spending on devices (PCs, tablets, "ultramobiles" and mobile phones): Gartner forecasts that spending on these products will decline by 4.6% this year. However, Lovelock expects device spending to increase by 3.8% in 2018 following the introduction of new premium smartphones to the South African market.
Spending on communications services is set to hit R122 billion ($9.05 billion) this year, a year-on-year increase of 0.8%. "Price competition between regional carriers, along with extremely price-sensitive consumers, is preventing substantial growth in spending in this segment, despite an overall increase in mobile device ownership," noted Lovelock.
— The staff, Connecting Africa
With Internet User Penetration at just 21.8%, Africa is still trailing the rest of the world, according to a new ITU State of Broadband report.
There are some tough decisions to be made regarding mobile network infrastructure developments in Africa.
Adedamola Ibironke, solution development manager at MTN Nigeria, talks about the trend of content co-creation in digital markets, as well as the role of partnerships.
Kenyan operator says investments in customer care will reduce call-waiting times and take pressure off an existing facility.
Tech giants team up to offer a range of digital solutions to enterprises in Africa, the Middle East and Turkey, with an initial focus on cybersecurity.
Tuesday, October 3, 2017
2:00 p.m Cape Town / 1:00 p.m London / 8:00 a.m New York
4G is fundamentally altering the African broadband landscape, driving changes in pricing models and ushering in a new breed of players. As more African operators struggle with finding the optimal balance of affordable pricing and service profitability, and as traffic volumes continue to explode, this webinar will take stock of 4G developments in the region.
Thursday, November 2, 2017
2:00 p.m Cape Town / 1:00 p.m London / 8:00 a.m New York
Available data center white space has doubled over the past five years and has been growing by an average of around 15% annually. This webinar will assess this transformation, and provide a window into what the expanding demand for cloud services means for the future of the African data center market.
Thursday, November 16, 2017
2:00 p.m Cape Town / 1:00 p.m London / 8:00 a.m New York
FTTH rollout has accelerated across Africa, driven by increased availability and consumption of bandwidth-hungry content, from video streaming services to cloud-based enterprise applications. This webinar will provide an overview of key trends in this burgeoning sector, along with some perspective on the status of deployments, economic feasibility and competition with alternative broadband access technologies (mobile broadband in particular).
All resources

September 20-21, 2017, Lagos Oriental Hotel, Lagos, Nigeria

November 6-10, 2017, Cape Town International Convention Centre (CTICC), Cape Town, South Africa
All Upcoming Live Events
Safaricom Spark Fund Portfolio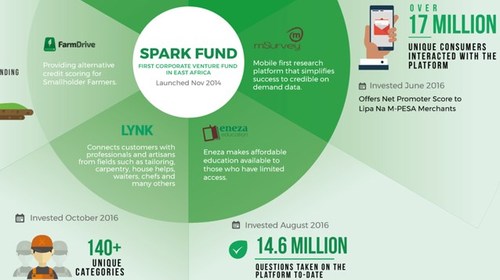 Infographics archive