M-KOPA, the solar energy specialist that enables off-grid homes to source power on a pay-as-you-go basis, now has 500,000 users across Kenya, Tanzania and Uganda, it has announced.
Founded in 2011, the home solar power system company enables its users to spread the purchase of its products over a year, with payments made via the M-PESA mobile payments platform. The company's systems, which use solar panels to charge batteries, include lights, a mobile phone-charging port, a solar-powered radio and, with the latest system, a solar-powered digital TV set (of which there are now 50,000 in circulation).
The M-KOPA option is a more affordable, safer and more environmentally friendly alternative to burning kerosene.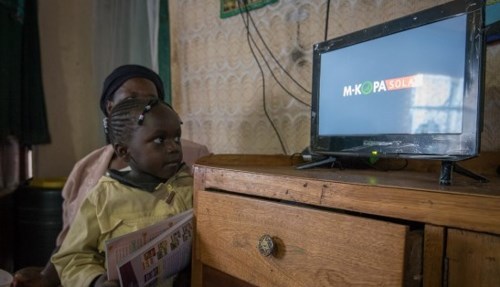 The company reached the half-million customer mark by signing up Dorothy Nabawesi at one of its stores in Mukono, Uganda. She said: "I don't have the money to access the grid. For so long, the good things have been passing me by, like watching national and international news on TV. My grandchildren used to go to a neighbour's house to get information about the world. Now with M-KOPA, I have better lighting for them to read, plus extra power to charge my phone, listen to radio and watch TV."
M-KOPA is now seeking to expand its range of offerings and has established a separate business unit, M-KOPA Labs, to identify and develop additional products and services that can run on its power and finance platform.
— The staff, Connecting Africa