Technology SMEs (small- and medium-sized enterprises) have been thriving in East Africa in recent years, with ecosystems such as the Silicon Savannah forecast to be worth more than $1 billion in the next three years.
The development of these important technology firms has been supported by organizations such as the International Trade Centre (ITC), a joint agency of the World Trade Organization (WTO) and United Nations (UN) that is dedicated to supporting the internationalization of SMEs.
To highlight the progress of these emerging companies, the Connecting Africa series of pan-African telecoms and technology events has teamed up with the ITC to produce a new report that documents the internationalization of East Africa's SMEs.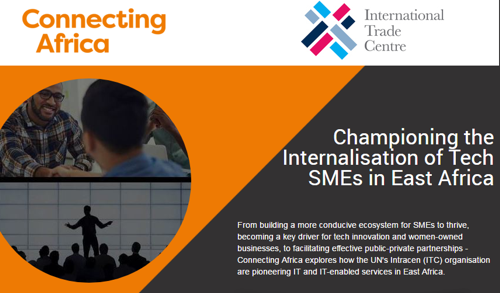 The report features SMEs such as:
SawaSawa – A custom software, design and development house
Hostalite – Providing domain registration, web design and e-commerce solutions in East Africa
Vantage – The Ugandan communications agency
Bunifu – The Kenyan information security solutions company
To access the report, click here. (Anyone downloading the report is entitled to a 20% discount to attend one Connecting Africa event of their choice.)
Connecting Africa and ITC have also partnered for the 14th annual East Africa Com (17 – 19th May, Nairobi). ITC is headlining the speed networking agenda at this year's event, which serves as an opportunity for the organization to meet large companies, whilst also promoting inter-regional and international business networks for SMEs.
— The staff, Connecting Africa