Hurricane Electric Expands IP Backbone in Africa, Middle East
In an effort to capitalize on growing demand for data traffic transport, IP backbone network operator Hurricane Electric is expanding its reach in Africa and the Middle East.
The company, best known for its data center and IP network activities in the US, has hooked its international network up to the Djibouti Data Center and Equinix Dubai, to offer expanded routes into Europe and Asia, and is connecting its IP backbone to the East Africa Data Centre in Nairobi to boost its presence in the intra-Africa data transport market. In addition, Hurricane Electric says it will be connecting to a number of Internet exchange facilities -- the Djibouti IX, the Kenya Internet Exchange and UAE-IX.
The move comes as mobile and fixed broadband connectivity is set to increase significantly across Africa, a trend that will result in greater volumes of data traffic that will need to traverse the African continent and link to the broader global Internet and data center infrastructure. (See Africa's Comms Market: Where's the Growth?, Africa Nears 1B Mobile Subs Landmark, Says Ovum and The Digital Content Juggernaut in Africa.)
— The staff, Connecting Africa
Mobile towers company kills plan to float about 25% of the company's stock as speculation emerges of a potential M&A move.
Smartphone prices have dropped dramatically in Nigeria during the past few years, helping to fuel a surge in mobile user numbers, according to a new market report from e-commerce company Jumia.
South Africa's mobile data challenger Rain is preparing to launch its 4G services with a focus on making things simple for customers, notes the operator's CIO.
MTN expects Nigeria and South Africa to be the engines of growth for the next few years as it reports favorable full year financials.
Operator is investing in a major upgrade of its radio access network infrastructure in seven countries using technology from Nokia.
All resources

May 15-16, 2018, Radisson Blu, Nairobi Upper Hill, Kenya

July 10-11, 2018, Radisson Blu Hotel, Dakar Sea Plaza, Senegal

November 13-15, 2018, CTICC, South Africa
All Upcoming Live Events
Safaricom Spark Fund Portfolio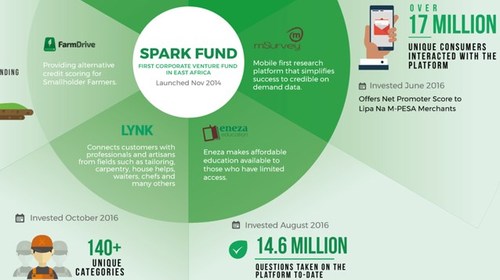 Infographics archive