MWC 2017: Africa Features in Ovum's Highlights
BARCELONA -- Mobile World Congress 2017 -- The global mobile community is in Barcelona this week, including all of the industry's leading industry analysts.
Here are some views from a couple of the smart folks at Ovum who have been checking out the hot trends here in Barcelona:
Service providers detail key parts of digital-first strategies -- Mark Oliver, Ovum's Head of Consulting, EMEA

"Against the backdrop of slow growth and the continued disruption of core services by new Internet entrants, members of the 'Mobile Operator Digital Transformation' conference panel debated where they see themselves in the next 12–24 months.

"Orange's chief strategy officer, Bénédicte Javelot, confirmed that Orange is shortly to become a disruptor itself, via the launch of Orange Bank in just a few weeks. Orange Bank will build on the success of Orange Money in the Middle East and Africa, as it aims to become the number one digital partner in the lives of its customers within the next three years.

"The panel largely agreed that digital transformation means taking advantage of new technologies to better serve customers, while allowing access to new business areas. However, panel members could not agree on the specifics of how this will play out."
Tokenization emerges as enabler of contextually relevant commerce -- Kieran Hines, Ovum's Head of Industries

"The concept of contextual relevance remains extremely important to any discussion on the future commerce experience, and there is growing acceptance that payment services need to have the flexibility to support a range of different commerce scenarios. Indeed, the focus of innovation from much of the industry is now aimed at providing solutions to address the needs of specific types of merchant. Payments are becoming fit for context.

"There have been several noteworthy announcements in this area so far. Mastercard has announced the expansion of its Qkr! service, rolling out in six more markets in 2017. Aimed at the hospitality industry -- and restaurants in particular -- the app enables customers to place orders and settle and split bills from within the service (paying with the Masterpass wallet). In addition to being made available in Brazil, Canada, Ireland, Singapore, South Africa and the US, the service will target a range of new use cases, including school fees, parking and vending."
— The Staff, Connecting Africa
Google says it will open a facility dedicated to artificial intelligence (AI) research and its applications in Accra, Ghana, later this year.
Chinese vendor Huawei has facilitated a US$200 million loan deal from Chinese financial institutions to help fund Telecom Egypt's 4G network rollout, including core and transport network technology deployments.
Mobile operator begins process that values the company at more than US$2.1 billion.
South African operator becomes the latest emerging-markets customer of Huawei's CloudAIR technology.
Mobile network technology has been developed for developed nations, leaving a lack of affordable mobile coverage solutions for countries with different needs, including those in Africa, argues the director of Orange Labs Networks.
All resources

July 10-11, 2018, Radisson Blu Hotel, Dakar Sea Plaza, Senegal

November 13-15, 2018, CTICC, South Africa
All Upcoming Live Events
Safaricom Spark Fund Portfolio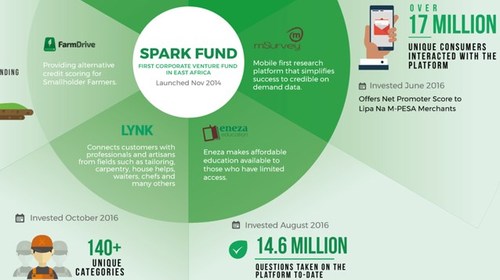 Infographics archive