AfricaCom Video: Day 2 Highlights
CAPE TOWN -- AfricaCom 2016 -- We thought day 1's agenda of sessions, panels and presentations couldn't be bettered but day 2 was filled with even more content spanning 12 unique tracks covering everything from IoT and African Smart Cities to Big Data and LTE on the continent.
The AHUB powered by Ericsson analysed the Fintech startup journey and the future of banking in Africa, as well as how big business can foster the startup ecosystem.
The IoT and Smart Cities sessions with Accelerate Cape Town took a look at the role of telcos as an enabler for IoT business transformation as well the roadmap to a smart Cape Town.
The exhibition was once again a hive of activity and conversation, with a whole host of impressive stands showcasing all tech and telco has to offer to further connectivity in Digital Africa.
The afternoon concluded with the Leaders In Africa keynote addresses on innovation through entrepreneurship, featuring philanthropist and businesswoman Bisila Bokoko, and the first black woman to ever climb Mount Everest, entrepreneur Deshun Deysel.
With Internet User Penetration at just 21.8%, Africa is still trailing the rest of the world, according to a new ITU State of Broadband report.
Adedamola Ibironke, solution development manager at MTN Nigeria, talks about the trend of content co-creation in digital markets, as well as the role of partnerships.
Kenyan operator says investments in customer care will reduce call-waiting times and take pressure off an existing facility.
Tech giants team up to offer a range of digital solutions to enterprises in Africa, the Middle East and Turkey, with an initial focus on cybersecurity.
The Safaricom Spark Fund has announced its sixth investment, with AgriTech startup iProcure gaining the funding.
Tuesday, October 3, 2017
2:00 p.m Cape Town / 1:00 p.m London / 8:00 a.m New York
4G is fundamentally altering the African broadband landscape, driving changes in pricing models and ushering in a new breed of players. As more African operators struggle with finding the optimal balance of affordable pricing and service profitability, and as traffic volumes continue to explode, this webinar will take stock of 4G developments in the region.
Thursday, November 2, 2017
2:00 p.m Cape Town / 1:00 p.m London / 8:00 a.m New York
Available data center white space has doubled over the past five years and has been growing by an average of around 15% annually. This webinar will assess this transformation, and provide a window into what the expanding demand for cloud services means for the future of the African data center market.
Thursday, November 16, 2017
2:00 p.m Cape Town / 1:00 p.m London / 8:00 a.m New York
FTTH rollout has accelerated across Africa, driven by increased availability and consumption of bandwidth-hungry content, from video streaming services to cloud-based enterprise applications. This webinar will provide an overview of key trends in this burgeoning sector, along with some perspective on the status of deployments, economic feasibility and competition with alternative broadband access technologies (mobile broadband in particular).
All resources

November 6-10, 2017, Cape Town International Convention Centre (CTICC), Cape Town, South Africa
All Upcoming Live Events
Safaricom Spark Fund Portfolio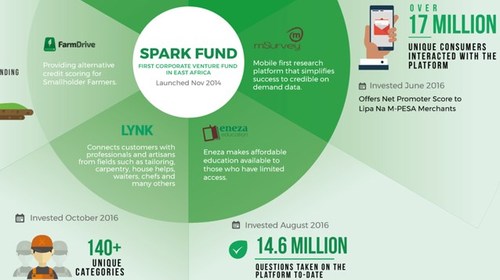 Infographics archive