The Countdown to AfricaCom 2016
There's just one week to go until Africa's largest technology and telecommunications event kicks off in the Silicon Cape.

Like the region and sectors it serves, AfricaCom has gone through a massive transformation in recent years, looking to remain at the forefront of the most unique and dynamic markets and trends in the world.

Africa has seen a multitude of home-grown innovations flourish in recent years, which have sown the seeds to transform Africa into a truly digital continent. Already termed the 'Mobile Continent', Africa has developed in leaps and bounds in the areas of mobile money, m-Health initiatives, apps and local digital entertainment, and in the process has grabbed the attention of the world's greatest tech leaders - from Zuckerberg to Gates.

Africa is proving to be fertile ground where opportunity, investment and innovation are concerned, with the African telco sector alone projected to be worth $65bn by 2018. AfricaCom is looking to elevate these sectors further, showcase successes and growth, debate solutions and best practice and enable a more cohesive ecosystem for collaboration between both private and public entities.

The Event

To this end, AfricaCom has been extended and revolutionised from the usual two-day model, to a week-long festival of informative sessions, immersive satellite events and unique networking opportunities, which the African tech space has never seen before.


The setting for this year's AfricaCom is The Telegraph's Best City in the World, Cape Town, South Africa - it's the African Mother City with the international reputation, which is also home to the continent's highest number of tech hubs.

Taking place between the 14th-18th of November 2016 at the world-renowned Cape Town International Convention Centre, the focus of this year's event is the economic development and social empowerment of Africa through digital connectivity, and seeks to be a bolder event that encompasses the entire tech ecosystem.

The event will see over 10,000 attendees walk through its doors to hear over 350 visionary speakers deliver their keynote addresses, insights, discussions and showcases centering around Africa's most pressing topics, challenges and trends.
What's On



The agenda is a thorough exploration of all the sector has to offer the region, from embracing IoT and Smart Cities in an African context, to the potentials of monetising data through analytics and customer insights. The event will also serve to shine a light on greater financial inclusion through mobile innovations and digital transformation, as well as agile IT for enterprises. The development of engaging digital entertainment content in an African context, from television to music, gaming and apps, will also be discussed through a host of case studies and keynote panels. AfricaCom also sees a dedicated SDN and NFV Proof of Concept stream focussing on key solutions for African connectivity service providers.

AfricaCom's AHUB powered by Ericsson has doubled in size this year with over 50 influential speakers. It is the meeting place for Africa's start-up community; linking business-ready entrepreneurs, developers and start-ups with accelerators, investors, VCs and business mentors. The AHUB will serve as a platform for a number of key innovative start-ups and disruptors, as well as bringing together hundreds of entrepreneurs - allowing delegates to position themselves at the forefront of the technology changing tomorrow and understand how the African investor community operates. What is more, the AHUB is free to attend for all start-ups and investors.
The People



The biggest names in telco and tech will be descending on AfricaCom to deliver their LeadersIn Africa keynote addresses, take part in leaders' panel discussions, showcases and roundtables, all while looking to elevate the African tech scene and provide in-depth insights and analysis on some of the region's biggest topics, challenges and opportunities. Some of the leading figures attending AfricaCom 2016 include:

Headline Speakers:


Thione Niang
Co-Founder of Akon Lighting Africa and appointed by president Obama as the ambassador at the US Ministry of Energy
Bisila Bokoko
Leading figure of the UN's EMPRETEC programme – fostering entrepreneurship skills for women in Africa
Deshun Deysel
Mountaineer and Businesswoman - the first black woman to climb Mount Everest
Vice President at Internet.org at Facebook




Bruno Mettling
CEO of Orange Middle East and Africa




The AfricaCom agenda at a glance:
A Celebration of Africa Tech
One of the most exciting additions to this year's event is the AFEST, an evening festival with performances by Africa's most prominent musicians and bands. Taking place at Shimmy Beach Club on Cape Town's V&A Waterfront on the Tuesday 15 November 2016, the AFEST is an evening of networking and a celebration of African technology. The all-African line-up includes the jazz and house trio Mi Casa and the indie, kwela cross-over band Freshlyground. The night will end with the internationally-renowned DJ and producer Black Coffee, sending home-brewed tunes across the Mother City.
Attending AfricaCom 2016:
It's not too late to grab your free delegate pass to the AfricaCom exhibition here. To take advantage of all that AfricaCom has to offer, such as: the full conference, LeadersIn Africa Headliners, the AFEST and much more, take a look at our delegate packages here.

If you are a free pass holder you can purchase your AFEST ticket as an add-on here. Don't forget to bring your passes with to gain entrance to the AFEST.
Dates:
Festival: 14 – 18 November 2016
Exhibition: 15 – 17 November 2016
Venue:
Cape Town International Convention Centre
Cape Town
South Africa

More info: tmt.knect365.com/africacom

#AfricaCom
#AFEST
Regulatory process means identity of Nigerian operator's new owner will not be announced imminently.
Kenyan operators fined for poor quality of service while tax rates have been hiked for mobile operators in Chad.
Guy Zibi from Xalam Analytics takes stock of South Africa's proposed 4G wholesale experiment and how it could impact multiple markets.
The number of pay-TV subscribers in sub-Saharan Africa will grow by 74% between 2017 and 2023, according to a new forecast from Digital TV Research.
South African operator has been conducting 5G trials with partner Ericsson but knows it will need more spectrum to make 5G a reality.
Thursday, November 16, 2017
2:00 p.m Cape Town / 1:00 p.m London / 8:00 a.m New York
FTTH rollout has accelerated across Africa, driven by increased availability and consumption of bandwidth-hungry content, from video streaming services to cloud-based enterprise applications. This webinar will provide an overview of key trends in this burgeoning sector, along with some perspective on the status of deployments, economic feasibility and competition with alternative broadband access technologies (mobile broadband in particular).
All resources
Safaricom Spark Fund Portfolio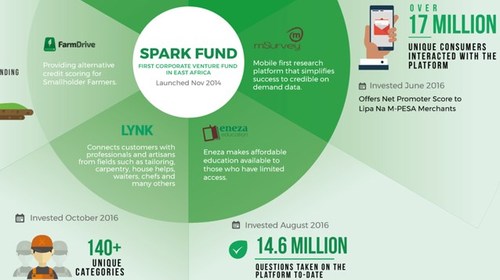 Infographics archive