NigeriaCom: Deepening conversations in the ICT sector

The 7th edition of the Nigeria Com ICT Leaders Forum has ended, and I am looking forward to attending AfricaCom, Cape Town for yet another informative and exhilarating experience.
One of the elements that makes Nigeria Com stand out is the quality of attendees and this year didn't disappointment. In fact, this year saw an increased number in start-up founders in attendance, which is a sign the ICT sector in Nigeria is growing in leaps and bounds.
NigeriaCom chat's to Tech Trends TV

Here are some of the highlights from this year's event:
mHeath Innovations
One of the stand-out sessions was the panel discussion on: "Understanding the Value-chain of Connectivity for Improving Healthier Lives and Societies in Nigeria."
The session was just fascinating and highlighted the need for Nigeria to leverage technology in tackling health-related issues. The news here is that Qualcomm Wireless came up with their latest eHealth innovation - ChiniPAK360.
Panelist Deborah Theobald, primary grantee of Qualcomm Wireless, explained that CliniPAK is a 3G enabled Point-of-Service data device designed to improve healthcare and reduce maternal and child mortality.
According to World Bank records, there are on average less than two midwives per 1,000 people and less than one doctor per 1,000 people in Nigeria. That is to say without adequate access to health services and long-term patient records, the lives of Nigerians becomes threatened. However, this new technology will provide midwives and healthcare providers with flexibility to capture, analyse and diagnose clinical conditions that lead to maternal or infant mortality, and aims to decrease the number of deaths in these groups dramatically.
"Electronic reporting gives us a faster and easier way of understanding what's going on in the field, so Nigeria can achieve Millennium Development Goals 4 and 5 by 2015. Ondo State is now able to track and report on approximately 90% of its maternal births - the highest of any State in Nigeria," noted Jamila Ibiye Bello-Malabu of the Nigerian National Primary Health Care Development Agency.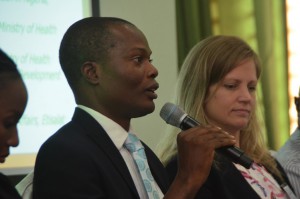 The panel discussing m-Health initiatives at Nigeria Com 2016

Panelist Adeleke Balogun, Assistant Director of ICT at the Federal Ministry of Health explained that the thrust behind this innovation is to solve data access-related issues. "Having access to data when needed is a setback in some industries in Nigeria. Hence, that issue has been addressed by the invention of ChiniPAK. Besides having access to data, there are lots of health-related applications such as videos and ebooks, which helps to narrow the knowledge gap".

The truth is that the immediate availability of current medical data means clinicians and midwives can make informed, timely decisions that have life-saving potential. Considering the potentially enormous benefits of this technology, it is envisaged that other states would borrow the notion from Ondo State and leverage the power of technology to boost their health sectors.
Connecting Nigeria
Secondly, the area that caught my attention at this year's event was the discussion around the country's connectivity, with statistics showing that internet penetration in Nigeria currently stands at 51 percent - ranking the country 6th in Africa. Ismaila Otolorin from Airtel Nigeria revealed these statistics during his presentation on: 'Towards Universal Access and Business Models for the last Mile'. His presentation was quite informative and instructive.
It is understood that the likes of South African MTN, Indian Airtel, Glo Nigeria, and UAE's Etisalat are reluctant to expand their network coverage in some areas because 20 percent of their network sites adds nothing to their revenue. This is what is the major issue associated with the low level of internet penetration in Nigeria.
Meanwhile, if telco operators expand their networks and universal service, there would be more internet penetration in Nigeria. Does it mean that players are not ready to expand their networks? The answer is no.
Otolorin noted that: "There are a lot of issues ranging from policies, regulation, the current economic situation, security of fibre, power, multiple taxation and other impediments that are trailing the telecoms operators in Nigeria. Once the government starts addressing some bottlenecks within the ecosystem, telecoms operators would expand their universal service so as to deepen internet penetration.

Additionally, the starting point is to effect the Universal Service Provision Fund (USPF), through which smart subsidies would be provided to operators. This would induce them to extend their network services to rural areas, so as to deepen internet penetration in Nigeria".

The Universal Service Provision Fund (USPF) was established by the Federal Government of Nigeria to facilitate the achievement of national policy goals for universal access and service to information and communication technologies (ICTs) in rural, un-served and under-served areas in Nigeria.

Otolorin suggested that to speed up the entire region it imperative that government, in collaboration with the Nigerian Communications Commission, further team up with third-party companies so as to help introduce smart subsidies that would induce operators to expand their service in rural areas.

Finally, one of the takeaways from the Nigeria Com event is that Nigeria is doing well with regards to in technology innovation, but still needs to improve in certain areas. Telecom operators need to expand universal access and service in uncovered areas; deepen Internet penetration; while the government needs to create an enabling environment for these operators.
Tech Trends TV sits down with Nigeria Com speaker Tony Smallwood - Executive Head of IoT at Vodacom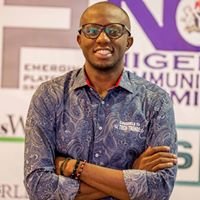 About the author:
CFA co-produces and presents Tech Trends, a weekly tech show on Channels Television as well as a weekly column in the Sunday Punch Newspaper known as ICT Clinic. CFA is the Founder of www.techSmart.ng, a tech blog that covers everything tech.
Regulatory process means identity of Nigerian operator's new owner will not be announced imminently.
Kenyan operators fined for poor quality of service while tax rates have been hiked for mobile operators in Chad.
Guy Zibi from Xalam Analytics takes stock of South Africa's proposed 4G wholesale experiment and how it could impact multiple markets.
The number of pay-TV subscribers in sub-Saharan Africa will grow by 74% between 2017 and 2023, according to a new forecast from Digital TV Research.
South African operator has been conducting 5G trials with partner Ericsson but knows it will need more spectrum to make 5G a reality.
Thursday, November 16, 2017
2:00 p.m Cape Town / 1:00 p.m London / 8:00 a.m New York
FTTH rollout has accelerated across Africa, driven by increased availability and consumption of bandwidth-hungry content, from video streaming services to cloud-based enterprise applications. This webinar will provide an overview of key trends in this burgeoning sector, along with some perspective on the status of deployments, economic feasibility and competition with alternative broadband access technologies (mobile broadband in particular).
All resources
Safaricom Spark Fund Portfolio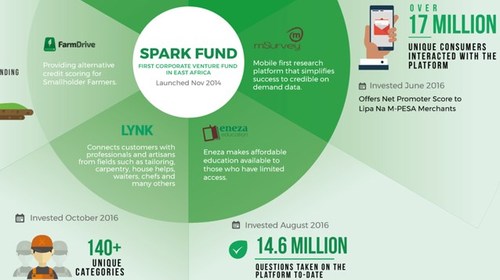 Infographics archive