AHUB powered by Ericsson | AfricaCom TV - Episode 2
Welcome to AfricaCom TV - the home of all things African tech and telco.

This AHUB episode is dedicated to showcasing the start-ups who are actively shaping the African tech scene.
The AHUB powered by Ericsson is part of this year's AfricaCom between the 15th and 17th November in Cape Town, South Africa and is the meeting place for Africa's start-up community – linking business ready entrepreneurs, developers and start-ups with accelerators, investors, VCs and business mentors.
Here's a spotlight look at some of the most impressive start-ups and innovations that have recently come out of Africa's digital landscape:
Companies featured:
Bankymoon
MaxiCash
wiGroup


The AHUB is open to AfricaCom visitors – however if you are a start-up, investor, operator, enterprise, broadcaster, government or regulator then you can get a FREE gold delegate pass, giving you access to all of AfricaCom's conference tracks. Please apply for a pass here or by clicking the link below.

Find out more about the AHUB powered by Ericsson here.

Register for your AHUB free pass here.




To find out more about the largest tech and telco event in Africa and book you tickets, click here.
Be part of the African tech and telco conversation, here:
Vincent Bolloré is detained by police in France over allegations that one of his companies bribed African officials.
While Indian operator faces major challenges in its domestic market, its operations in Africa continued to grow and thrive during the first three months of this year, underpinned by investments in mobile broadband.
There's talk of a complex merger in Kenya between Safaricom's two main rivals but warning bells should sound for the regulator.
South African operator has teamed up with Microsoft to offer the tech giant's Azure cloud services starting in June.
Fintech startup is the first African fintech company to attract investment from a Chinese venture capital firm.
All resources

May 15-16, 2018, Radisson Blu, Nairobi Upper Hill, Kenya

July 10-11, 2018, Radisson Blu Hotel, Dakar Sea Plaza, Senegal

November 13-15, 2018, CTICC, South Africa
All Upcoming Live Events
Safaricom Spark Fund Portfolio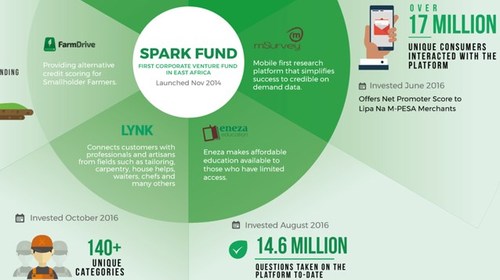 Infographics archive