Igniting entrepreneurship through African mHealth services
As one of the continent's leading economies,
Nigeria is home to a flourishing ICT sector, which has spurred numerous technological innovations in recent years. Unfortunately, the nation is still to traverse a range of challenges when it comes to safeguarding the health, safety and development of it's 180 million citizens.
Qualcomm® Wireless Reach™ is an initiative which brings advanced wireless technologies to under-served communities globally, improving lives with projects that strengthen economic and social development. The initiative implements programs in five areas: health care, education, entrepreneurship, public safety, and the environment. Important, strategic, and clear cut, each of these can, and does benefit greatly from the introduction of advanced wireless technology as a well-suited solution to development issues. Mobile is creative, pervasive, and according to the GSMA's 2015 The Mobile Economy Report, it's becoming more and more affordable – even in emerging economies.
"The most successful outcomes have been achieved when the boundaries between each program are able to fluidly respond and adapt according to their

specific demands"

But what I've found in my six years of managing global projects, is that hardly any of our unique programs actually fall squarely into one vertical area. Rather, the most successful outcomes and a clear path to sustainability have been achieved when the boundaries between each program are able to fluidly respond and adapt according to their specific demands. For example, a health care pilot may also be able to utilize the strengths and expertise of an entrepreneurial venture.

A perfect example of the cross-cutting nature of these wireless programs is our mHealth CliniPAK360 effort in Nigeria. Nigeria is home to numerous technological innovations; it's also, unfortunately, home to one of the world's highest maternal mortality rates. Knowing both of these things were motivation enough to team up with VecnaCares and InStrat Global Health Solutions (InStrat); now, for over three years, we've invested in this program which provides mobile technology as a solution for frontline health care workers in maternal health clinics and is continually evolving to help solve other health challenges (see this example and this Ebola research that speaks to the adaptive and expansive nature of the program).
On the ground in more than four Nigerian states, InStrat is the implementation partner and is run by an incredible entrepreneurial founder, Okey Okuzu. I'll let him tell you a little more about our experiences with mobile and how our mHealth program has benefited and flourished due to his entrepreneurial mindset and efforts:
"I started InStrat in 2010 after a lengthy life sciences and financial services career with a vision of driving an e-health revolution in Africa, starting from Nigeria. Skittish officials and investors were too nervous to provide the funding required for demonstration or proof of concept projects. About a year later, in collaboration with VecnaCares, we applied for a competitive Qualcomm Wireless Reach grant for CliniPAK360 to form the basis of an electronic health data management platform in Nigeria's Primary Healthcare system. This opportunity was squarely in line with InStrat's vision of advancing the e-health revolution. Fortunately, VecnaCares and InStrat were awarded the grant.
"Electronic health data can be transmitted to the National Health Information Management System in real time"

We established a consortium that embarked on a journey that started with the installation of CliniPAKs in two facilities in 2013 and expanded to 51 by the end of 2015. Along the way, we have demonstrated the benefits of electronic health data management through the following accomplishments: conducting health worker education and preparedness for the Ebola campaign; instituted an electronic disease surveillance mechanism that identified the cause of a methanol poisoning outbreak; validated that electronic health data can be transmitted to the National Health Information Management System in real time; demonstrated that rural primary health facilities can operate in a fully paperless environment. We have now established partnerships with visionary officials that have become evangelists of that eHealth revolution. And Qualcomm Wireless Reach remains steadfast in its support of this vision.

Officials and investors are no longer skittish – local funding opportunities are beginning to emerge – increasing the likelihood of sustainability. In the last few months, InStrat has received calls to leverage CliniPAK360 and other available eHealth technologies for disease surveillance and response; emergency management; health insurance claims processing; health program enrollment; front line health worker training and capacity building, just to name a few.
"When you introduce mobile as a tool in this arena, the transformation, economic development and opportunities that arise are limitless"

The revolution has started! This movement has been inspired by the thought leadership and project management provided by Qualcomm Wireless Reach as well as VecnaCares' technical prowess. And it has manifested in a dramatic increase in the demand for CliniPAK and InStrat's other eHealth support services. This is the true story of entrepreneurship."
Entrepreneurship has a natural cross-cutting ability to enhance several areas; when you introduce mobile as a tool in this arena, the transformation, economic development and opportunities that arise are limitless. I've seen this in my work with Wireless Reach when managing other vertical focused programs and especially in this example with InStrat and VecnaCares (and other incredible stakeholders) in Nigeria. As our program efforts soar to greater heights, in the wake of an improved health delivery system in Nigeria, we at Qualcomm Wireless Reach take continued pride in our role to facilitate entrepreneurial success through our investment in mHealth.
About the authors:
Kyle Moss
Program Manager & Head of Global Entrepreneurship, Qualcomm Wireless Reach
Kyle Moss serves as a Government Affairs Program Manager and Head of Global Entrepreneurship for Qualcomm Wireless Reach. Based in San Diego, Moss designs, implements, and manages, social impact programs throughout Africa, Asia, and the U.S. She also leads her team's efforts in support of SMEs, SGBs, social enterprises, and entrepreneurs, using mobile tools. These activities are all on behalf of Wireless Reach, the strategic program that brings the benefits of advanced wireless technologies to under-served communities globally.

Okey Okuzu
Founder & CEO, InStrat Global Health Solutions

Okey Okuzu is an accomplished healthcare visionary able to identify ways of improving healthcare delivery to under-served markets and populations using emerging technologies. Okey founded InStrat Global Health Solutions in 2010 to focus on Global Health Innovation by identifying and deploying technology based healthcare solutions to underserved markets using SMS and 3G wireless technologies. He is a member of the board of trustees of Oando Foundation USA and serves on the Advisory Boards of Center for Public Policy Alternatives and Trigen HealthCare Ltd.
The prospect of a merger between Kenya's second- and third-largest mobile operators appears to have been revived.
Liquid Telecom has appointed industry veteran Mohamed Abdel Bassit, most recently at Orange, to lead its expansion into some of the fastest growing markets on the continent.
Reports suggest that Teleology, the new owner, has decided to withdraw, but the situation is far from clear.
Microsoft needs more time and investment before it can open its planned data centers in South Africa, reports ITWeb.
Value of OTT video content will grow almost five-fold during next six years, according to Digital TV Research.
All resources
Safaricom Spark Fund Portfolio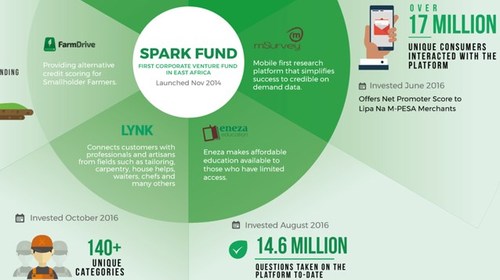 Infographics archive