Nigeria Com speaker spotlight - Jara Mobile's Emeka Akano

By Amy Turner - Com Series Staff Writer, KNect365


There's only one month to go until Nigeria Com 2016, and to set the scene for the event dedicated to the Nigerian digital and telco ecosystem, the Com Series team have introduced the Nigeria Com Speaker Spotlight series - where we talk with some of the sector's biggest influencers and thought-leaders in their respective fields.

Emeka Akano is the digital distuptor who has innovated the Nigerian apps market, by forecasting the African mobile revolution and utilising it make the everyday consumers' lives more convenient, while simultaneously helping foster brand loyalty in the region.

We spoke with Forbes Africa's Most Promising Young Entrepreneur and Jara Mobile CEO about the rate of digital development in the country, how to support and spur content creation and what motivated him to step into the apps space.

"The mobile revolution in Africa has indeed created a lot of opportunities, as well as creating what I would refer to as positive change"
1. We look forward to welcoming you to Nigeria Com, next month. You're taking part in our keynote panel on the rise of data driven services through smart devices, what fundamental societal and institutional changes in Nigeria have you seen as a result of what is often termed the African mobile revolution?
The mobile revolution in Africa has indeed created a lot of opportunities, as well as creating what I would refer to as positive change. In Nigeria, I've seen the ease at which our creative youth are now able to showcase their talents effortlessly in the areas of comedy, music or even administrating live workshops via short videos skits, shared on social media platforms, such as: Instagram, Snapchat, and more recently live video streaming platform Periscope.
This is as a result of the increasing internet penetration rate, as well as increase in smartphones in the market, mainly due to the decline in smartphone prices as competition increases, with more global smartphone players coming into the Nigerian market.
This, in turn, is resulting to the high dependence on smart devices as our growing middle class continue to build their lives around a smart device, forming addictive habits around them. Institutions and organisations, more than ever before, are beginning to conform to this new reality that anyone has the liberty to, and can easily, engage with them them in open conversation, via social media platforms like Twitter; be it an unsatisfied citizen or perhaps a customer who was not happy with their experience with a product or service.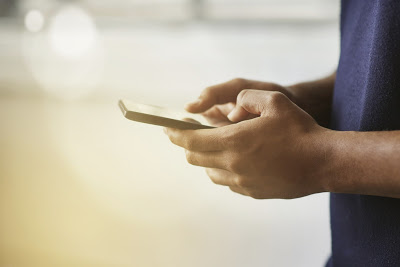 2. In what ways can effective broadband provisioning spur the development of new content and bridge the mobile revenue gap in the country?
Effective broadband provisioning can spur development of new content in two main ways but not limited to;

i) Ease of distribution of new content: When there is fast, reliable and cheap access to the internet (affordable broadband), this opens up the market for content consumers, as well as increasing the demand for it. For example, more people have access to the internet and can afford it, so it increases revenue. Also, content developers are guaranteed an easier, economic and efficient way to distribute their work or content to their end consumers.

ii) Ease of access to new content: Which is closely related to the above point, with effective broadband provisioning, demand for new content from consumers is bound to go up, because consumers now have the liberty to access much more content than they would have done if they had no access to reliable and affordable internet. This results to the supply of new content to match demand and of course an increase in mobile-related revenues.
"Without reliable supply of power the cost of this broadband would still be higher than it should be"

3. What do you believe are still the major challenges or blockers to enhancing digital integration and bridging this digital revenue gap, specifically in a Nigerian context?
Internet penetration plays a major and vital role in fostering the process of bridging the gap you speak of. Although the penetration rate is at 38% in Nigeria, as reported by Internetsociety.org in their "Global Internet Report", is very impressive and shows some good steps in the right direction.
Saying that, much more has to be done to ensure it grows at a much faster rate, while paving the way for faster, cheaper and more reliable access to broadband internet in the market. All of which are very much tied to the energy sector's infrastructure development. Without reliable supply of power, the cost of this broadband would still be higher than it should be, and therefore limit digital integration in Nigeria and the rest of Africa.
"When it comes to gaming, the youth market don't mind paying for in-app content"

4. Having a look at Nigerian youth culture, what kinds of content does the youth market seek out free of charge and what are they happy to pay for?
The youth market seeks content around gossip, entertainment (music, videos, movies), sports, games. As is the case with every person, getting content that we care about for free is never a bad idea and the youth here largely want gossip, entertainment and sports news content for free.
This is different when it comes to gaming, as the youth market don't mind paying for in-app content within games. When they have become addicted to a particular game, paying to get an extra life to proceed to the next stage or perhaps getting better equipment to enable them to get ahead in a level is usually a welcome idea.
Paying for music is also another growing trend with recent developments like MTN, the largest mobile operator in Nigeria, recently disclosing that they made $70 million in revenues from digital music distribution across Africa (from January to June 2016). The majority of this arguably comes from West Africa, who are largely responsible for the 50 million downloads across all their music offerings, each month.

5. In your experience, how do you balance creating unique offerings against short term walled profits, that inhibit long term growth?
In my experience, it all boils down to the vision of the founder(s) and the stage the business is at, whether it is at the early stage of development, or at the stage where the business is established and perhaps thriving.
Where there is a business with a unique offering and a clearly defined vision and road map, a short term opportunity to make some profit, that is not necessarily in line with that vision, may indeed inhibit long term growth.
If a business is at the startup level (a stage where the business needs capital) and has not raised enough investment yet, the founders would have to be proactive about exploiting such opportunities as a means to an end, knowing clearly that it is a means to raise capital for the achievement of the vision of the company, in the interim. With such a strategy one would know the type of decisions to make, which would not inhibit the long term growth of the business, be it exploiting the short term opportunity with a different brand or entity entirely.
When it comes to opportunities for businesses that are already established and successful, the size of the return would warrant whether it would be worth the effort, as opposed to a startup business which usually has cashflow or capital requirements at the early days and may have to try to exploit short term walled opportunities as an interim action.
"The reduction in prices of mobile data...would make a huge impact in encouraging the new waves of content creation"

6. Did you believe networks are sufficiently supporting new waves of content creation for mobile?
I believe they are doing their best to support as much as they can given the circumstances, but I also believe things can always be improved upon and done much better, regardless.
The reduction in prices of mobile data by the telcos in Nigeria recently, is a good example. If such competitive services are rendered at affordable rates, this would, in my opinion, make a huge impact in encouraging the new waves of content creation, since the access to this content would be easier and affordable when mobile data/internet cost are cheaper.

7. How do you believe technology companies can support local Nigerian content creation?

I believe in optimising the process of content creation and also in the distribution of the content created. Technology companies can support by building products which can help local Nigerian content creation to be much more seamless and thereafter, distributing the created content to the right customers, in a way that can be measured with the use of analytics.

"We reward users for what they normally do routinely, without taking them out of their way"

8. You have recently founded rewards app "Jara", how do you differentiate yourself from other reward apps globally, and what have your adoption rates been like since the launch, earlier in the year?
Our value proposition is very clear to our customers and is unique in the sense that we reward users for what they normally do routinely, without taking them out of their way. Our model is very different from how most rewards apps globally go about their business. In Nigeria, where we've launched, we've localised the experience, while maintaining a global standard experience.
Most importantly, we are very passionate about the social impact when doing business, so much so that we added a social impact scheme to our business model, where we donate a percentage of each transaction done on our platform to a reputable charitable organisation, towards the educating of underprivileged children in society, starting with Nigeria.
For product adoption, we did a private beta launch a few months ago, where we got our early users to use the product, and we gained critical feedback for improvement. We are at the verge of now re-launching the product again to market, where we would now market it much more aggressively.
The adoption rate has been encouraging, as we were particularly keen to learn quickly from our early customers on how to better serve them our innovative, first-of-its-kind app in this country.
I knew that Africa would eventually be mobile-driven, due to the 'African mobile revolution' very much in motion

9. What was your major motivator, as an entrepreneur and innovator, to found Jara Mobile?
After I encountered a report by
the World Bank and the National Bureau of Statistics for the fiscal year of 2012/2013, which
revealed how much Nigerians spent on telecommunications services, which was in the billions of dollars each month, and how the major mode of transactions (paying bills etc) was through the traditional means of physically going out of our way buy and recharge cards from a road-side hawker or shop - I clearly recall that I hardly slept that night.
Also, I knew that Africa would eventually be mobile-driven, due to the 'African mobile revolution' very much in motion and in the very near future, maybe 5 years from now, most transactions would be done on mobile. Mobile money success amidst other trends are indicators of this already happening.
We knew they were a few digital (web and mobile) alternatives for purchasing airtime or paying bills already in the market, who are also trying to service the market digitally, so in a bid to position ourselves in readiness to exploit this inevitable change in the telecommunications sector, we founded Jara Mobile with our flagship product Jara app.

To make our product unique i.e differentiate ourselves, we developed a model whereby consumers get rewarded in for doing their routine bill payment or airtime recharge through our platform, whereby normally all they would enjoy would have been the convenience of doing it digitally through their phones. We decided to take it a step further by adding a reward from their favourite brands, in addition to this convenience. In addition, we also help brands to turn consumers into customers in a measurable way, as their coupons serve as an economic way to market their brands and convert their marketing budget to actual measurable sales.



10. What is next for Jara, where do you see the app developing in the near future?
In the near future, I see the app being used in neighbouring African countries, as well as the addition of several more varieties of brands across different categories, added to the platform.

11. What do you expect from speaking at Nigeria Com 2016?
I expect to exchange ideas and have meaningful conversations with stakeholders which would continue to shape the digital, telecommunications and ICT space in Nigeria and Africa. I also expect to build up good PR for Jara Mobile which is an innovative technology startup founded by young Nigerians, as a means to also inspire and encourage entrepreneurship among the youth in Nigeria and Africa.
I am really looking forward to meeting with stakeholders across different sectors, keen to network and make new connections

12. What are you most looking forward to at this year's event?
I am really looking forward to meeting with stakeholders across different sectors, keen to network and make new connections with policy makers, potential investors for my startup, industry-shapers and top executives from the long list of technology ventures, telecommunications giants, telecommunications and ICT service providers all meeting up in one place.

Emeka Akano will be speaking on day 2 of Nigeria Com 2016, on the panel discussion: Enhancing content integration to bridge the digital revenue gap - the rise of data driven services through smart devices.

You can find out more about the event here.

Be part of the African tech and telco conversation, here:
In an effort to cement its position as the gateway between Egypt and the rest of Africa, Liquid Telecom plans significant data center and network investments in the country during the next three years.
Investments are being made that will benefit the citizens of Africa, improve economies and perhaps most importantly give the people of Africa the opportunity to play their part in the Fourth Industrial revolution.
Kenyan operator is putting a new base station design to the test.
The Nigerian Communications Commission says the country will be ready to launch next-generation cellular networks in 2020, despite low current 4G penetration.
More than 50 million South Africans will be covered by 4G by the end of 2018, according to MTN, making it the first operator in the country to hit that mark.
All resources
Safaricom Spark Fund Portfolio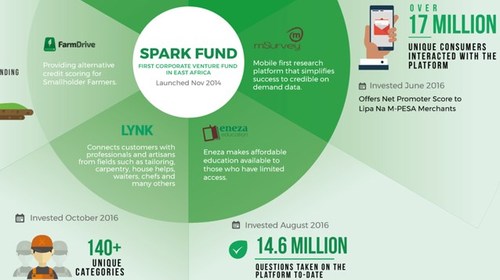 Infographics archive