Stay connected with SES at East Africa Com 2016
The vital role of technology and innovation in both the telecoms and Information Communication and Technology (ICT) sectors goes without saying

. In

Africa, making

technological strides

are

especially

pertinent

due

to the
continued issue

of

connectivity

on the continent

. One of SES' commitments is to ensure various audiences stay connected through its satellites, which enable over 317 million homes to receive 7,200 satellite TV channels (including 2,200 HD channels).
"SES has over 30 years of experience in providing high quality video broadcasting services. Our commitment to the sector is not only through our products but also through our training programmes – most notably Elevate which has seen us empower over 5,000 candidates with the skills and equipment to improve broadcast services – the training also provides essential skills about how to run your own business," says Ibrahima Guimba-Saidou,
SES

Senior Vice President of Commercial Africa.
SES' commitment to the industry is further emphasized through its sponsorship of industry events such as East Africa Com. Industry events play a

key

role in the broader eco-system of our business, as they provide a central place for leaders and decision makers to interact, connect and discuss. They also give those in the industry the opportunity to meet with their colleagues and peers and exchange dialogue to advance their respective areas of expertise.
"Our services change lives on a daily basis, even though an end user may not be aware of the direct impact of SES' product suite. We encourage all our peers in the industry to attend events such as East Africa Com where they will be able to meet our team and engage with them meaningfully," concludes Ibrahima.
This year sees SES sponsor East Africa Com – which takes place from the 18th to the 19th of May 2016 at the Radisson Blu Hotel in Nairobi, Kenya. The event started 12 years ago and remains a highlight on the calendar for
recognizing the key challenges for rural telecoms, reducing the costs of 3G networks and boosting data usage.

Ensure you secure your meeting with our team representatives at East Africa Com by booking some time with them, simply click SES Africa.
To

register

for East Africa Com 2016 click here.
Africa's digerati are set to converge on the annual AfricaCom event in Cape Town once again to figure out the continent's connected future, analyse the potential of 5G, identify how IoT and smart cities could play a role in Africa's digital development… and much more.
Kenyan operator will work with Google's Loon to launch a 4G mobile broadband service in rural and suburban areas starting next year.
Mobile operator MTN may be considering pulling out of Liberia, Guinea and Guinea-Bissau, but may enter long coveted Angola and Ethiopia.
Speculation suggests Safaricom is about to strike a deal with Ethiopia's government to help introduce the M-Pesa mobile money and banking service to the country's 100 million-plus population and compete with existing player M-BIRR.
The telecom regulator of Chad has issued an invitation for tender to auction out a new mobile licence covering 2G, 3G and 4G.
All resources

September 19-20, 2018, Lagos Oriental Hotel, Lagos

November 13-15, 2018, CTICC, South Africa
All Upcoming Live Events
Safaricom Spark Fund Portfolio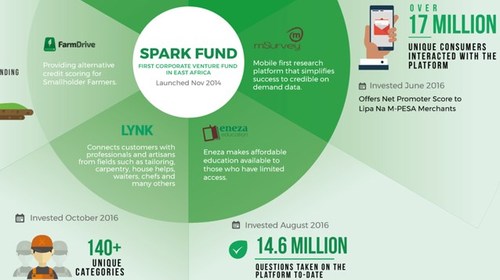 Infographics archive