AfricaCom Awards: Entry deadline extended to Friday 11th September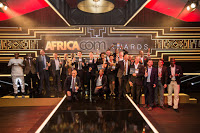 Owing to a number of requests from industry partners and AfricaCom supporters the entry deadline to the AfricaCom Awardshas been extended to Friday 11 September, to allow ample time for the community and new interested parties to submit entries comfortably.
The Awards takes place on Wednesday 18thNovember in the event evening at Cape Town's Waterfront Lookout – a truly amazing setting and for many the climax of the whole event. Those who attended in 2014will no doubt remember the stylish theme and comfortable setting for what was a great occasion paying homage to the leading innovations in African telecoms and ICT. This year stands to be even more impressive with a unique theme and surprise entertainment to compliment the festivities.
· Best Network Improvement
· Excellence in Customer Experience Management
· Breakthrough LTE Development
· Best Cost Efficiency Solution for Africa
· Best Connectivity Solution for Africa
· VSAT innovation for Africa
· Best Marketing Campaign
· Best Mobile Money Service
· Best App for Africa
· Best Device for Africa
· Most Innovative Service
· Best Pan African Service
· Changing Lives Award
· CEO of the year award
If you have any questions or want to explore some of the commercial opportunities at the AfricaCom Awards, contact the team:
Sponsorship or table options: becky.lyons@informa.com
Categories and submissions: adam.thompson@informa.com, Gemma.white@informa.com