Time for long-term strategic thinking!

Time for long-term strategic thinking! The move to digital is shaping Africa's economy, enabling it to become a world leader in tech and service innovation.

This year the Vision for Africa keynotes are looking at the future of digital Africa, from technology evolution to new services, investment, business transformation and sustainable strategies. In a bid to compare and contrast differing visions, industry heavyweights will swap ideas with market shakers and up-and-coming innovators.
The objective: to give you the most forward-thinking perspectives on the potential of digital Africa, so you can seize the opportunities in the world's most exciting market.
YOUR KEYNOTE LINE-UP THIS YEAR INCLUDES:

Christian de Faria


CEO


Airtel Africa
OPERATOR

Luke Mckend


Country Director, SA


Google
OTT

Elisabeth Medou


CEO


Orange Cameroun
OPERATOR

Bright Simons


President


mPedigree
ENTREPRENEUR

Nina Triantis


Global Head Telecoms & Media


Standard Bank
BANK


Ime Archibong


Director of Product Partnerships


Facebook
OTT

Diego Camberos


General Manager


Tigo Senegal
OPERATOR

Suraya Hamdulay


Executive Head: Group Sustainability


Vodacom
OPERATOR
Day 1 - Tuesday 17th November
| | |
| --- | --- |
| | Innovating for Africa's Digital Future |
8.50 Welcome by Informa Telecoms & Media

9.00 Innovation Leadership Panel: How to support a culture of innovation and entrepreneurship in digital Africa?

Building an African way of promoting innovation: what best practice can be learnt from the Silicon Valley and other entrepreneur cultures and how to adapt them to local culture and needs?

Operators & Innovation: Is a culture of innovation and entrepreneurship possible in a large historic company? What should relations between operators and tech start-ups look like?

How to support the start-up ecosystem in Africa? Examining the role of incubator hub, investors and other stakeholders

Moderator: Larry Madowo, Technology Editor & Anchor, NTV Kenya
Panellists:
Dr Jackie Chimhanzi, Senior Strategist, Industrial Development Corporation (wp_idC)
Christian de Faria, CEO, Airtel Africa
Markku Mäkeläinen, Director, Global Operator Partnerships, Facebook
Marc Rennard, EVP Africa Middle East & Asia, Orange Group
Bright Simons, President, mPedigree

9.30 What does Digital Africa mean? Technology evolution for a connected world
Fredrik Jejdling, President of Sub Saharan Africa Ericsson

9.50 Vision for Digital Africa panel: How will new technology transform Africa?

What new technologies will have the biggest impact on African consumers and enterprises in the years to come?

How will new technologies affect the telecoms, media & ICT ecosystem?

How can operators use technology for competitive advantage?

Moderator: Abe Wakama, Founder &MD, IT News Africa
Panellists:
Paolo Campoli, Head of MEA Global SP Sales and SP CTO, EMEA, Cisco
Jose Henriques, CEO, Movicel, Angola
Luke Mckend, Country Director, South Africa, Google
Elisabeth Medou, CEO, Orange Cameroun
10.20 What will Africa's path towards 5G look like?
Li Peng, President of Eastern and Southern Africa, Huawei
Day 2 – Wednesday 18th November
9.00 From hardware to software: a shift in how operators can view their networks
Paolo Campoli, Head of Middle East & Africa Global SP Sales and SP CTO, EMEA, Cisco

9.20 Services, data and the digital transition: How is LTE changing the digital landscape?

Assessing the state of LTE rollout in Africa: how have the models worked and what level of coverage is needed?

Solving the spectrum issue: what is available and what remains to be done for telcos to access sufficient spectrum for LTE?

How will LTE access change digital service offerings: data, content, broadcasting

Moderator: Alex B. Dadson, Managing Director, Blue Management Group
Panellists:
Tony Dolton, CEO, Unitel, Angola
Miguel Geraldes, CEO, MTC, Namibia
Jannie Van Zyl, Executive Head: Innovation, Vodacom
9.50 Future-proofing networks & services for the digital economy
Willem Hendrickx, President for Europe, Middle-East & Africa, Alcatel-Lucent

10.10 Transforming operators' models to succeed in the digital economy

The big debate: should operators focus on being providers of connectivity or of digital services?

Exploring new revenue streams outside core services (IoT, enterprise services, financial services etc.): what services are most promising and how can operators make the shift successfully?

Assessing triple play opportunities: what does it mean for African markets?

Evolving partnerships for the new digital economy: finding a sustainable win-win situation with content, OTT and other partners

Panellists;
Asif Aziz, Group Marketing Director, Expresso Telecom Group
Richard Bell, Chief Executive Officer, East Africa Capital Partners, and Vice Chairman, Wananchi Group
Arnauld Blondet, Innovation director for AMEA, Orange Group
Diego Camberos , General Manager, Tigo Senegal
Dr. Harry Gombachika, Chief Executive Officer, Malawi Telecommunications Limited
Farhad Khan, Chief Commercial Officer, Airtel Africa
Day 3 – Thursday 19th November
| | |
| --- | --- |
| | Sustaining Profitability |
9.00 Ministerial Keynote: Supporting growth in the telecommunications, media and ICT industry

9.20 Investment, consolidation and profitability: Changing the continent's telecom landscape

Investing in telcos: what are operators' investment priorities and what are investors looking for?

Addressing the need for consolidation in African markets: which markets, how to make it work?

Funding ICT infrastructure: what are the pros and cons of the various investment models?

Moderator: Siki Mgabadeli, Radio & TV Financial Journalist
Panellists:
Mike Peo, Head: Infrastructure, Energy, Telecoms, Nedbank Limited
Christophe Soulet, Executive Operations Director, Airtel Africa
Aniko Szigetvari, Head, Africa & Latin America TMT Group, International Finance Corporation
Nina Triantis, Global Head Telecoms & Media, Standard Bank
Keith Webb, Investment Banking Infrastructure Finance, Rand Merchant Bank

9.50 Communications with a difference: services for sustainable growth in the community
Speaker to be announced soon

10.10 Targeting underserved communities: strategies to deliver digital communications across Africa

Examining which segments are still underserved: geographic segments (e.g. rural areas), customer segments (e.g. women)

Is there a commercial case to address low-end market & underserved customers with specific services?

How to build CSR strategies with a view to sustainable commercial objective?

What handsets and devices will help target new segments?

Moderator: Spiwe Chireka, Independent Telecommunications, Media and Technology (TMT) Consultant
Panellists:
Ime Archibong, Director of Product Partnerships, Facebook
Patrick Benon, CEO, Orange Botswana
John Bernard, Global Marketing Director, Mozilla
Aboubakar Haman, Legal & Regulatory Director Atlantique Telecom
Suraya Hamdulay, Executive Head: Group Sustainability, Vodacom

In an effort to cement its position as the gateway between Egypt and the rest of Africa, Liquid Telecom plans significant data center and network investments in the country during the next three years.
Investments are being made that will benefit the citizens of Africa, improve economies and perhaps most importantly give the people of Africa the opportunity to play their part in the Fourth Industrial revolution.
Kenyan operator is putting a new base station design to the test.
The Nigerian Communications Commission says the country will be ready to launch next-generation cellular networks in 2020, despite low current 4G penetration.
More than 50 million South Africans will be covered by 4G by the end of 2018, according to MTN, making it the first operator in the country to hit that mark.
All resources
Safaricom Spark Fund Portfolio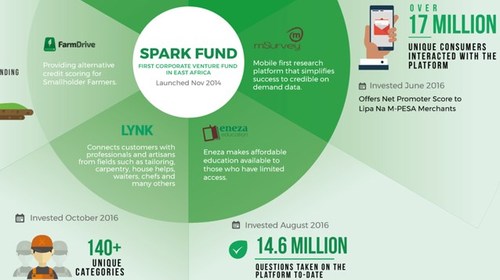 Infographics archive