Africa set for mobile data traffic boom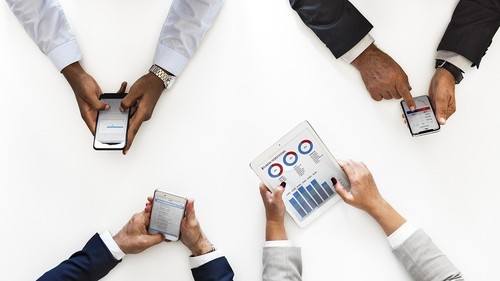 Mobile data traffic in Sub-Saharan Africa (SSA) is set to multiply by 12 in the next five years, while the Middle East and North Africa (MENA) region is likely to grow by a factor of almost nine in the same timeframe.
This is according to the June 2020 Ericsson Mobility Report which shows that total mobile data traffic in SSA is estimated to grow from 0.33 Exabytes (EB) per month in 2019 to 4EB by 2025.
Ericsson predicts that average traffic per smartphone is expected to reach 7.1GB per month for SSA by 2025, compared to 1.6GB in 2019. In MENA, average usage per smartphone will grow from 5GB currently to 23GB per month by 2025.
Global total mobile data traffic reached around 33EB per month by the end of 2019, and is projected to grow by almost five times to reach 164EB per month in 2025.
"This figure represents the mobile data that will be consumed by over 6 billion people using smartphones, laptops and a multitude of new devices at that time. Smartphones continue to be at the epicenter of this development as they generate most of the mobile data traffic – about 95 percent – today, a share that is projected to increase throughout the forecast period," the report reads.
LTE leap
When it comes to LTE/4G subscriptions in SSA, Ericsson predicts they will triple from 90 million in 2019 to reach 270 million in 2025. LTE accounted for only 11% of SSA subscriptions in 2019, but this should grow to 30% by the end of the forecast period.
The researchers believe mobile broadband subscriptions will account for 72% of SSA mobile subscriptions in SSA by 2025. The driving factors behind the growth of mobile broadband subscriptions include a young and growing population with increasing digital skills, and more affordable smartphones.
In the MENA region, around 23% of mobile subscriptions were for LTE at the end of 2019. The region is anticipated to evolve over the forecast period, and by 2025, 77% of subscriptions are expected to be for mobile broadband.
Ericsson's president of Middle East and Africa, Fadi Pharaon, said that the new report highlights Africa as one of the fastest growing mobile markets and "reiterates the need for a more efficient technology, higher data rates and availability of ample spectrum."
Sub-Saharan Africa's smartphone subscriptions will likely grow from 390 million in 2019 to 650 million in 2025.
Ericsson believes that HSPA (3G) will remain the dominant technology over the coming years with a share of around 40%, which is similar to 2019.
5G future
5G will likely remain a small part of the African ecosystem over the next five years. Ericsson believes that discernible volumes of 5G subscriptions are only expected from 2022 in the SSA region and will reach about 3% by 2025.
In MENA, commercial 5G deployments with leading service providers have taken place during 2019 and 5G subscriptions have already passed 500,000, but mainly in the Gulf countries. Significant volumes are expected in 2021 and the region is likely to reach around 80 million 5G subscriptions by 2025, representing around 10% of total mobile subscriptions.
Meanwhile, globally, by 2025 Ericsson expects 45% of total mobile data traffic will be carried by 5G networks.
— Paula Gilbert, Editor, Connecting Africa