South Africa's minister of Communications and Digital Technologies, Stella Ndabeni-Abrahams, has pledged support to the fiber-to-the-x (FTTX) industry promising that government will work with it to ensure that all South Africans, even those in rural areas, gain access to connectivity.
She was speaking at the FTTX Council Africa Conference 2019 in Johannesburg on Tuesday and said that government is encouraging the industry to deploy "wall-to-wall fiber" in SA.
"All South Africans should have access to fiber if we really mean business. Just like we are able to say people must get 20 liters or 100 liters of water a day, and government must pay for that, or electricity for those that can't afford it, we really need to reach that stage [with connectivity]. And that means that government has to introduce incentives to encourage you to go to those areas that you are shy to go to because they are not making profit sense. We understand because the deployment of infrastructure is costly, that's why we are saying we've got to work together," she told delegates.
"We are happy with the support that we've received from the industry and the commitment that has been made, and we are coming here to say -- you are stuck with us," she added.
Ndabeni-Abrahams likened government commitment to the fiber industry to a marriage, saying that government takes it very seriously and is committed to the promise of "until death do us part."
"We want to provide you with the reassurance that as government we support the industry. We urge you to continue investing in the sector and we pledge our full support to ensure that we do our part in building a sustainable sector."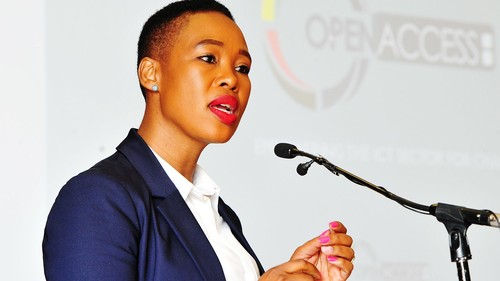 Building a 4IR army
Ndabeni-Abrahams said that fiber was a critical enabler for the Fourth Industrial Revolution (4IR) and that without it the country will not be able to enter the 5G race.
She quoted stats from the FTTX Council showing that at the end of June 2019 about 1.5 million end points had been passed, with a total of over 600,000 connections, comprising more than 496,000 homes that are connected and billed and more than 114,000 business premises.
She said that although the numbers were impressive, government realized that they are only the tip of the iceberg.
"I have engaged with operators who are in agreement that the amount of fiber that we currently have in place is not nearly adequate to serve the future needs of the telecommunications industry. Whilst acknowledging the R100 billion [$6.6 billion] investment that the industry has made so far, we believe that to achieve our 5G vision, that at least six to eight times more fiber must be deployed," she said.
Ndabeni-Abrahams calls herself the "Commander of the Fourth Industrial Revolution" and often uses the phrase "building a capable 4IR army." She told delegates that there can never be a meaningful Fourth Industrial Revolution if African people are not connected and there can never be a capable 4IR army if they do not have the right skills.
"We have to work together, and working together does not only apply to the industry but also to government that must create an enabling environment for the industry to thrive so the communities can benefit meaningfully," she said.
Also at the conference, the minister acted as witness as a number of key fiber stakeholders signed the FTTX Council's Industry Stakeholder Principles of Excellence document, promising to help the industry to grow in a sustainable way. The document was signed by execs from Liquid Telecom, Dark Fibre Africa, Frogfoot Networks, Vodacom, MTN, Metro Fibre Networks and Altron.
Working with government and other stakeholders, the industry leaders committed to:
Striving to achieve digital inclusion
Ongoing investment and contribution to job creation
Development and support of SMMEs, startups and entrepreneurs
Ongoing commitment to innovation and R&D
Contribution to the African continent as a whole
Ethics in doing business
Cooperation and collaboration
Commitment to the next generation of mobile technology

The FTTX Council aims to get more industry players to sign the document during the two-day conference.

— Paula Gilbert, Editor, Connecting Africa