Safaricom is boasting strong success with its low-cost Neon smartphone, announcing it has already sold more than 600,000 of the devices in 2019.
The Kenyan telecoms operator says the device is the most popular and affordable smartphone in its retail shops across the country. The growth in the Neon's popularity came after Safaricom revamped its line-up in April 2019 to introduce the 4G smartphone for KES3,999 (US$38.50).
"The devices are especially designed to appeal to first-time smartphone users and have been received quite well, emerging as our most preferred smartphone range," according to Safaricom CEO Michael Joseph.
Low-cost smartphones are key for the continent, where affordability remains a major barrier for African users gaining access to 3G or 4G devices that have Internet capabilities.
According to data from Ovum's World Telecoms Information Service, Kenya had around 49.2 million mobile users at the end of March 2019, but 34.6 million of them were still using 2G.
More operators are looking for low-cost options to move African customers to 3G and 4G devices.
In August MTN announced it was planning to launch a $20 smartphone across its operations in Africa, made by South African company Mobicel. (See MTN Is Launching a $20 Smartphone .)
Data costs also remain a major issue across Africa and in recent months Safaricom has partnered with Google to deliver an optimized version of Android known as Android (Go edition) on the Neon devices. Android (Go edition) helps entry-level smartphone users control their data usage by managing which apps can use data through a "data saver" feature and compressing data through the Chrome browser. Google's advanced compression algorithm uses 40% less data to display search results.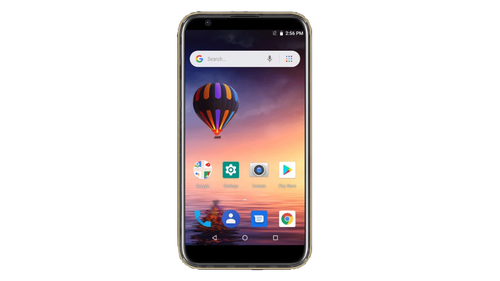 The Neon range features a number of different versions of the phone priced between KES3,199 ($30.80) and KES4,999 ($48) which are VoLTE capable.
Launched in June 2019, voice-over-LTE (VoLTE) technology enhances call quality and allows Safaricom 4G customers to make clear voice calls and video calls with other capable VoLTE devices at no extra cost.
Safaricom has more than 31.8 million customers in Kenya. Listed on the Nairobi Securities Exchange and with annual revenues in excess of KES200 billion ($1.9 billion), Safaricom provides over 93% of Kenya's population with 4G and 3G coverage and 96% of Kenyans with 2G coverage.
— Paula Gilbert, Editor, Connecting Africa