Connecting Africa Country Profile: Nigeria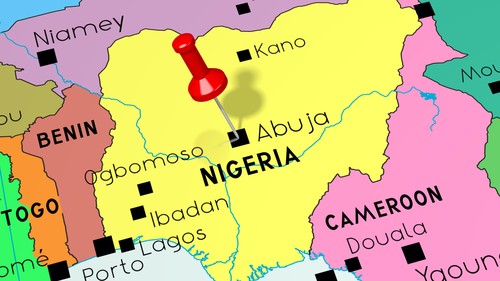 Nigeria is one of the most dynamic mobile markets in Africa, which is why we have chosen it to be the first country under the spotlight in a series of Country Guides from Connecting Africa. This guide offers a snapshot of the country's mobile market and breaks down the size of the top mobile operators which are active in the West African nation.
Nigeria's population of over 200 million people makes it the biggest on the continent and a thriving mobile market has seen penetration levels grow to over 85% by the end of March 2019. Nigeria has a total of 168.5 million mobile subscribers and market research company Ovum forecasts that mobile subscriptions will grow to 194 million in 2023.
The country's biggest operator is MTN Nigeria, with 35.8% market share, but rivals Globacom Nigeria and Airtel Nigeria are not far behind, with 27.4% and 26.8% respectively. 9Mobile lags behind, controlling just 10% of the market, according to stats from Ovum's World Telecoms Information Service (WTIS).
The report was written by Ovum senior research analyst Thecla Mbongue, who told Connecting Africa that although MTN remains the market leader in Nigeria, Globacom and Airtel are catching up and the market remains dominated by multiple SIM card usage.
"Hence, MTN still manages to retain a good share of the usage and revenues and MTN's share of mobile revenues remained around 49% over the past two years. MTN is maintaining a strong market share due to wider coverage, strong brand and competitive pricing in all segments," says Mbongue.
MTN's misery
Despite MTN's successes, it has been a rocky road for the South African-headquartered company's operations in Nigeria since October 2015, when it was slapped with a mammoth $5.2 billion fine from the Nigerian Communications Commission (NCC). This after it failed to meet a deadline to disconnect 5.1 million unregistered SIM cards on its Nigerian network.
After a lot of back and forth, MTN finally reached an agreement with the NCC in June 2016 and promised to pay $1.671 billion to settle the fine. The group paid the penalty in installments and in August 2019, as part of its interim results presentation for the six months ended June 30, 2019, announced it had finally paid off the full amount.
But in August 2018 the telco was once again at loggerheads with Nigeria's authorities when the Central Bank of Nigeria (CBN) demanded MTN repatriate $8.1 billion to Nigeria, which the bank said the company had sent abroad between 2007 and 2015 in breach of foreign exchange regulations. In addition, the office of Nigeria's Attorney General then demanded $2 billion in "alleged unpaid taxes on foreign payments and imports." MTN denied the allegations and a lengthy court battle ensued. (See MTN Hits Back at Repatriation Funds Claims, MTN at Loggerheads With Nigerian Authorities – Again, MTN Goes to Court Over $10B Demands in Nigeria and MTN Wins First Round of Nigerian Tax Fight.)
In late December 2018, MTN agreed to make a $52.6 million payment to resolve the $8.1 billion dispute but the tax issue is still being fought over in the courts, with the next hearing expected to be on October 29, 2019. (See MTN Settles $8.1B Spat with Central Bank of Nigeria.)
In May 2019, MTN finally executed on its long-awaited IPO plans in Nigeria and listed some shares on the Premium Board of the Nigerian Stock Exchange. (See MTN Lists & Leaps in Nigeria.)
Mbongue believes that MTN is in a better position now and "most of their regulatory issues are under control for now. Over the next 12 months, we should see them focusing on increasing broadband coverage but also on mobile financial services," she says.
9Mobile woes
9Mobile has had its own issues which have dominated news headlines over the past two years, including shrinking customer numbers, partly due to a transition period following its sale and restructuring. Mbongue explains that 9Mobile, which was formerly owned by Etisalat group, was taken over by creditor banks in 2017 after it defaulted on payments on a $1.2 billion loan. The regulators and the firm's interim board appointed Barclays Africa to prepare it for sale.
Teleology emerged as the preferred bidder and took over the company in November 2018. However, in January 2019, Teleology Holdings pulled out of a consortium it formed with local partner Teleology Nigeria over a management dispute and later in the year a legal issue cropped up which could nullify the acquisition. (See Nigeria's 9mobile Still Mired in Scandal, Nigeria's 9mobile Suffers Further Turmoil and Nigeria's Mobile Market Continues to Grow, as Do 9mobile's Woes.)
"9Mobile's future looks indeed a bit uncertain. They recently got a loan approved but they definitely need more in terms of funding but also in terms of brand or corporate identity," adds Mbongue.
Ovum's data shows that 9Mobile's overall share of subscriptions declined from 12% at the end of 2017 to 10% by the end of 2018. 9Mobile is also the only operator to have seen its data subscriber base decline constantly since 2017.
Mbongue says a small player to watch is Smile Telecoms, which over the past two to three years has become a stronger challenger.
3G vs. 4G and what about 5G?
Ovum's data shows that the dominant mobile technology in Nigeria is now 3G, which overtook 2G in the second quarter of 2018. Ovum forecasts that 3G connections will retain the largest market share over the next five years.
The country's 3G subscriptions have almost doubled from around 53.7 million at the end of June 2017 to 100.7 million at the end of March 2019. 2G services have been steadily declining from about 88.6 million users in June 2017 to over 64 million in March 2019. Meanwhile, 4G services have predictably been on the rise over that period, from almost 360,800 4G users in mid-2017 to 3.7 million at the end of the first quarter of this year.
"The market is still dominated by 3G usage due to affordability issues and lack of device financing schemes. 4G represented 3% of the country's mobile subscriptions in 3Q19, compared to 34% for 2G and 63% for 3G. We expect the share of 4G to grow to 13% by 2024," adds Mbongue.
"Effective 5G rollout will depend on spectrum availability. In December 2018, the NCC suspended further spectrum allocation in the 2.6GHz, 3.8GHz and 4.2GHz bands in order to get ready to assign these bands to 5G rollout, in line with yet to be released ITU recommendations," she adds.
The road ahead
Ovum believes Nigeria's broadband market has been growing at a faster pace following the introduction of 4G from mobile network operators (MNOs) and also from smaller ISPs.
"Broadband connectivity is at the center of service providers' strategy, as they need to cater for the constant growth in data usage driven by the wider range of content available. Ovum forecasts that total data traffic in Nigeria will jump from 1,487 Pbytes in 2018 to over 10,520 Pbytes in 2023," Mbongue says.
However Nigeria still lags in the mobile financial services (MFS) field. Despite constant growth in terms of user uptake, the Nigerian market remains under-penetrated in terms of mobile financial services compared to other key African markets.
Mbongue believes that MNOs should be more involved in driving mobile financial services in the country.
"For a long time, the Central Bank of Nigeria has been cautious, trying to restrict MFS leadership (marketing and ownership of the products) to financial institutions. Although these institutions have managed to grow the segment considerably, there is still a lot to do, as MFS users represented less than 5% of mobile subscriptions in 3Q18. MNOs' involvement beyond being enablers is crucial, as MNOs have greater financial means and wider distribution channels than the banks," she says.
Connecting Africa series event Nigeria Com took place from September 11–12, 2019 in Lagos, with over 650 telecoms and technology leaders attending and over 45 speakers sharing their knowledge on the TMT market in the country and region. Nigeria Com will be back next year in Lagos from September 9–10, 2020.
— Paula Gilbert, Editor, Connecting Africa