South African finance minister Tito Mboweni has called for broadband access for all Africans as a way to overcome inequality on the continent.
"We all know that economic growth, job creation and entrepreneurial activity is inextricably linked to broadband access. We therefore need to ensure that broadband access -- like healthcare and education -- is available to all," Mboweni told a plenary session at the World Economic Forum (WEF) on Africa last week in Cape Town.
Mboweni said if the continent does not overcome social, economic and spatial inequality in the provision of broadband, it will simply perpetuate the economic exclusion of the majority of the continent's people.
"In the development of our policy and in the implementation of our programs, we need to ensure that technology promotes greater equity and broader social and economic participation. As countries of Africa, we share a common determination to be part of this new age of disruption and to join the economy of the future," he added.
Mboweni said the continent must respond with agility to the changes brought by disruptive trends and technologies that are changing not only the way of life but the way of doing business and the system of governance.
"We must ensure that our citizens are prepared and, if necessary, that they are shielded from any adverse consequences. As African countries, we must take advantage of the opportunities presented by technological change to enhance our competitiveness in the global landscape."
He highlighted the growth of mobile money systems in Africa as an example of how much technology can broaden access to markets, connect companies and support the growth of startups and small businesses.
According to the World Economic Forum nearly two thirds of children entering school today will work in jobs that don't yet exist. Mboweni highlighted that workforces in every industry will be affected by automation, possibly resulting in downsizing and redundancies.
"We need to adopt incentive programs for industries that may experience significant structural disruption in just a few years' time," he added.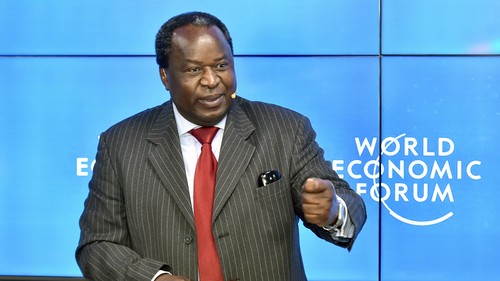 4IR in focus
The 2019 WEF on Africa took place under the theme "Shaping Inclusive Growth and Shared Futures in the Fourth Industrial Revolution." The meeting saw more than 1,000 regional and global leaders from government, business, civil society and academia gathering to explore new models to help Africa achieve success at a time when technology is creating dramatic economic and societal shifts.
SAP Africa announced a range of skills and entrepreneurial development initiatives at WEF Africa as a way to help prepare Africa's youth to thrive in the digital economy.
"In Africa, where the youth population -- those aged between 15 and 24 -- is expected to more than double to 450 million by 2055, there is an urgent need to radically rethink how we prepare our youth to be active participants in the fourth industrial revolution (4IR)," said SAP Africa MD Cathy Smith, speaking at the conference.
In 2015, SAP launched Africa Code Week, a continent-wide digital skills development initiative that has engaged more than 4 million youth across 37 African countries. The 2019 Africa Code Week was officially launched on September 3 with the aim of introducing an additional 1.5 million African youth to digital skills this year.
There was a focus on women in business at the Cape Town conference, with Visa also committing to support female entrepreneurs by extending its global "She's Next" program into Africa.
Visa and the International Trade Centre (ITC) announced the signing of a memorandum of understanding launching a new partnership to increase the financial inclusion of small businesses and women-owned small businesses globally by helping empower them to participate in international digital trade economy.
"Women entrepreneurs are the backbone of local economies, and the need for support is real. Closing the gender gap requires persistent hard work and support," said Aida Diarra, senior vice president and group country manager for Visa Sub-Saharan Africa.
Despite all the positive focus on women and tech advancement, real-world issues in South Africa impinged on the meeting of Africa's elite, with hundreds of young people protesting outside the conference venue, calling for an end to femicide and gender-based violence in the country.
A recent wave of xenophobic attacks on the shops and businesses of African migrants across South Africa also left a cloud over proceedings as the violence led to retaliation attacks on South African businesses in other African countries. It even caused the official Nigerian WEF delegation to pull out of the event.
South African President Cyril Ramaphosa last week called on South Africans to desist from fueling tensions in the wake of violence that has gripped the country in the last two weeks. He said the country had been deeply traumatized by acts of violence and criminality directed against foreign nationals and South African citizens.
"We know that at least ten people have been killed in this violence, two of whom were foreign nationals. No amount of anger and frustration and grievance can justify such acts of destruction and criminality," he said.
The rioting also forced South African telecoms company MTN and retailer Shoprite to close stores in Nigeria after attacks on their premises. (See MTN Closes Stores in Nigeria & SA Following Xenophobic Attacks .)
— Paula Gilbert, Editor, Connecting Africa