Johannesburg, Nairobi Among Top 50 cities Supporting Women Entrepreneurs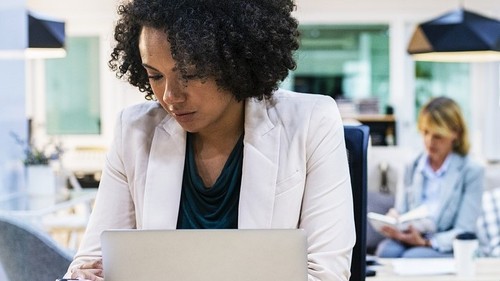 Johannesburg and Nairobi are among the top 50 cities in the world that support women entrepreneurs.
This according to the latest findings from the Dell Technologies Women Entrepreneur Cities Index, which placed Johannesburg in 36th place and Nairobi in 40th. The two cities are the only in Africa to make the index.
Building on 10 years of research on women entrepreneurs, Dell Technologies partnered with research firm IHS Markit to rank 50 cities on five important criteria -- access to capital, technology, talent, culture and markets.
According to Dell, the index could serve as a diagnostic tool to advise policy-makers on how to better support women in business. It says it is important for governments and business leaders to look at how to help women entrepreneurs thrive in the changing-face of technology.
Since the last index in 2017, all 50 cities improved on the majority of their indicators year-over-year.
The top ten cities in the ranking were all in North America or Europe, with four of the top five in the US. The top five were: The Bay Area (San Francisco and surrounds); New York; London; Boston; and Los Angeles.
Johannesburg ranked higher than Dubai, Beijing and Warsaw on the list and Nairobi came in ahead of ten others, including Seoul, Kuala Lumpur and Sao Paulo.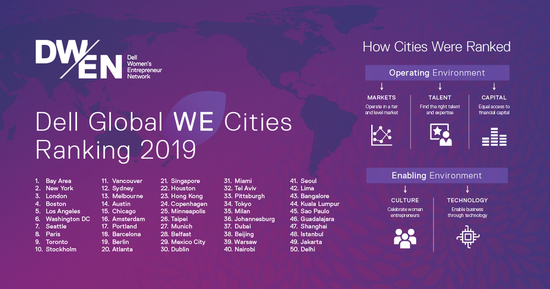 However, compared to the 2017 index, both African cites have fallen in the rankings, Johannesburg fell from 28th in 2017 to 36th place in 2019 and Nairobi dropped from 33rd to 40th place. Despite its drop, researchers say Johannesburg's position at 36 is more indicative of the increasing competition to attract women entrepreneurs and it still ranks ahead of numerous international hubs.
Talent is one of Johannesburg's strongest pillars: The city ranked at number 29 overall in 2019 for talent, and was within the top 10 for women's skill and experience overall.
"Johannesburg is a business powerhouse, both in Africa and across the world," said Doug Woolley, Dell EMC SA's general manager.
"It's also a giant melting-pot and is known for its cosmopolitan and progressive attitudes. These are some of the reasons why it is more attractive and welcoming to all entrepreneurs, including women. Its inclusion in the 2019 Women Entrepreneur Cities findings shows that significance, but it's also a reminder that much more can be done," he added.
The index found that 78% of students at top universities are women in Johannesburg. Women in Johannesburg also make up considerable amount of the labor force employed in professional services (67%) and IT (65%).
Despite being in the bottom end of the list, Nairobi ranked in the top 10 for markets. The East African city also saw an improvement when it came to the presence of a city portal/website for business creation for women.
Dell claims the index is the only global, gender-specific study that looks at a city's ability to foster the growth of women-owned businesses. Building on annual research since 2010, Dell ranks cities based on the impact of local policies, programs and characteristics, in addition to national laws and customs to help improve support for women entrepreneurs and the overall economy.
"When we invest in women, we invest in the future. Communities prosper, economies thrive and the next generation leads with purpose," said Karen Quintos, EVP and chief customer officer at Dell Technologies.
"By arming city leaders and policymakers with actionable, data-driven research on the landscape for women entrepreneurs, we can collectively accelerate the success of women-owned businesses by removing financial, cultural and political barriers," she added.
The study found that more than a quarter of company boards in Johannesburg have women on them, a distinction shared with London, Sydney and Tel Aviv. Johannesburg also ranked 9th for the best market in terms of operating environment.
When looking at the barriers to women in business globally, lack of funding, high cost of living, low representation of women in leadership roles, and the lack of government-led policies that support women entrepreneurs were among those cited.
Dell has found that access to capital is still the number one challenge that women entrepreneurs face, although the numbers are showing a slight improvement. Creating robust ecosystems with incubators, accelerators and mentors "makes a world of difference for entrepreneurs," it adds.
Yet all the cities produced positive change among their major indicators. Dell says this reveals momentum in the right direction. As women rise to take up more roles as entrepreneurs and leaders, those cities that can attract such talent will have the brightest futures.
— Paula Gilbert, Editor, Connecting Africa