February 5 was this year's Safer Internet Day (SID), which takes place on the second day of the second week of the second month. Telcos, major Web services companies, non-government organizations (NGOs) and governments supported the initiative, which this year had a focus on children and the young netizens and the slogan 'Together for a better internet.'
Started by the NGO Insafe, and funded by the European Union, Safer Internet Day has been celebrated since 2004. This year, in many African nations, the day was marked by high profile events to enhance the awareness among children, their parents, and young Internet users of both the opportunities and challenges of Internet access.
Facebook supported the event by organising a campaign spreading across more than 15 African countries, sponsoring the printing of Internet safety awareness books, facilitating Internet training to stay safe online, and putting together a family-friendly training video to raise awareness of the company's Safety Center.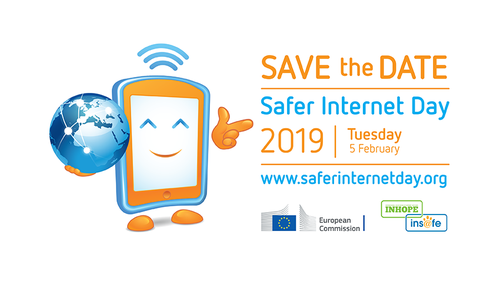 Facebook's campaign covers most of sub-Saharan Africa, including countries such as Cameroon, South Africa, Uganda, Nigeria, Kenya, Ghana, Zimbabwe and Senegal. The company is hosting individual events in specific countries, working with schools and other non-profit organizations to raise awareness of the importance of Internet safety.
Sherry Dzinoreva, Public Policy Programs Lead at Facebook Africa, said: "We know that safety is a shared conversation, which is why we are excited to be working with so many stakeholders around the continent to make the Internet a better place. Together, with Safer Internet Day as a platform, we can address emerging online concerns, so that people and especially children and the youth, can get the most from their Internet experience."
In Kenya, Facebook, which has recently been mired in endless controversies related to mishandling of private data, was working with the local NGO Watoto Watch, to host an event for students at a Nairobi school in order to raise school children's awareness of online safety. Facebook also contributed free ad inventory for social benefit promotion as well as prepared internet safety booklets.
There were a lot of SID activities in Kenya. It was the first SID celebrated in the country since the Kenyan telecom industry representatives from the private and public sectors endorsed the GSMA's Child Online Protection (COP) Charter last November. The signatories included Airtel Kenya, Jamil Telecommunications, Safaricom and Telkom Kenya, as well as the Communications Authority (CA) of Kenya and the Ministry of Information and Communications Technology.
Safaricom, the country's leading mobile network operator, also put its weight behind the day, hosting an event to promote safety online at its headquarters in Nairobi.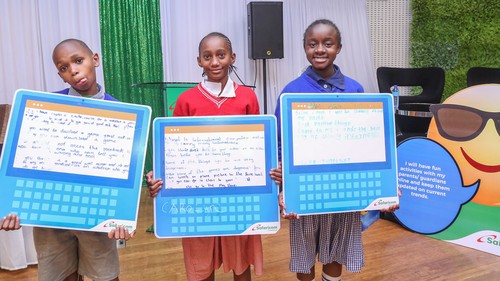 The mobile service provider hosted its annual SID fair to both demonstrate what technologies can benefit consumers and to promote responsible and creative use of the Internet, especially among the young users. The telco has not only dominated the mobile market in Kenya but also become a byword for Internet service, not the least through M-PESA, its mobile money service.
Safaricom has an online child safety policy, which provides guidelines on how to develop products and services that are sensitive to keeping children safe online. It also has a partnership with the Internet Watch Foundation, to block illegal child sexual content from the Safaricom network.
"We see the company's future as data-driven, agile, efficient and adaptive. For this to be realized, we have to protect our children from the ills of the Internet while also making sure they get the most out of it in terms of learning and entertainment. With our aim being to transform lives, we want everybody to be able to log on and learn their crafts, create and share content and advance their education without being in danger of viewing explicit content or being bullied," said Stephen Chege, Chief Corporate Affairs Officer at Safaricom. "With the kind of reach we have, it is important to us that we tell as many individuals as possible to create a better internet by developing four critical skills: Respect, Responsibility, Reasoning and Resilience – we call these the 4Rs," added Chege.
Google's SID focus was on security. It partnered with the Kenya Scouts Association to unveil Web Ranger 2019, a youth programme to promote Internet safety the search giant first launched in 2015. In a speech delivered at the event by a representative, Margaret Kobia, the Cabinet Secretary, Ministry of Public Service, Youth & Gender Affairs said: "I consider the safe and responsible use of the internet to be a vital skill for the virtuous and patriotic youth of the 21st century… Programmes such as Google's Web Rangers and its partnership with the Kenya Scouts Association are a very welcome complement to the work that parents, teachers, guardians and the Government do in building a better world for our children."
Google also collaborated with CODE-IP Trust and the Kenya Institute of Curriculum Development to launch an Internet safety manual.
To a certain extent, the telcos and Internet companies were primarily generating good PR through their SID efforts, but it can't be denied that awareness would be enhanced through these events, especially among young people. Online safety and privacy has become an increasing concern for young Internet users and their parents. In a recent report published by Ofcom, the UK's telecom regulator, half of the parents surveyed thought the Internet was doing more bad than good. With less stringent regulations on data protection, Internet safety and security is far from being just a first-world problem.
— Wei Shi, Site Editor, and Phil Oakley, Contributing Editor, Connecting Africa