Connecting Africa Digital Week Kicks Off on Twitter

Connecting Africa celebrated the opening of its first ever Digital Week with a Twitter discussion dedicated to African tech innovation.
We were joined by the Connecting Africa Digital Week webinar speakers and panellists, as well as registrants of the biggest online event dedicated to African tech and telecoms.
How is innovation done differently in Africa? How can Africa capitalise on the potential of disruptive technology? Where are the hottest sectors for startup growth? Find answers to these, and other questions, below.
Would you like to take part in our next Twitter discussion? Drop us a line with your suggested topics and your Twitter handle to amy.turner@knect365.com and we'll get in touch for the October discussion.

There's still time to take part in Connecting Africa Digital Week. Find out more and register for free here.
Tuesday, October 3, 2017
2:00 p.m Cape Town / 1:00 p.m London / 8:00 a.m New York
4G is fundamentally altering the African broadband landscape, driving changes in pricing models and ushering in a new breed of players. As more African operators struggle with finding the optimal balance of affordable pricing and service profitability, and as traffic volumes continue to explode, this webinar will take stock of 4G developments in the region.
Thursday, November 2, 2017
2:00 p.m Cape Town / 1:00 p.m London / 8:00 a.m New York
Available data center white space has doubled over the past five years and has been growing by an average of around 15% annually. This webinar will assess this transformation, and provide a window into what the expanding demand for cloud services means for the future of the African data center market.
Thursday, November 16, 2017
2:00 p.m Cape Town / 1:00 p.m London / 8:00 a.m New York
FTTH rollout has accelerated across Africa, driven by increased availability and consumption of bandwidth-hungry content, from video streaming services to cloud-based enterprise applications. This webinar will provide an overview of key trends in this burgeoning sector, along with some perspective on the status of deployments, economic feasibility and competition with alternative broadband access technologies (mobile broadband in particular).
All resources

September 20-21, 2017, Lagos Oriental Hotel, Lagos, Nigeria

November 6-10, 2017, Cape Town International Convention Centre (CTICC), Cape Town, South Africa
All Upcoming Live Events
Safaricom Spark Fund Portfolio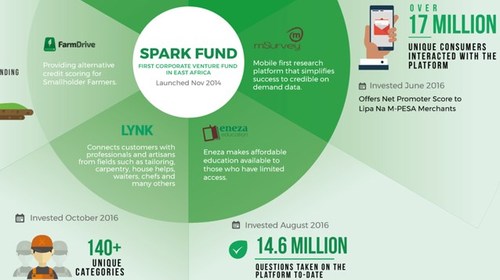 Infographics archive