Submarine network construction specialist TE SubCom has started work on the 5,400 kilometer Djibouti Africa Regional Express (DARE) subsea cable system that will connect Djibouti, Somalia and Kenya, with the potential to extend to Tanzania.
The system was first announced in 2016, when the expectation was that the network would include a connection to Yemen and be ready for service by May 2018. Now that timeline has been pushed back and a link to war-torn Yemen is no longer part of the immediate plans.
Now, the route stretches from Djibouti to Mombasa (Kenya), with branches to three major coastal cities in Somalia (Mogadishu, Berbera and Bosaso), with the potential to extend to Dar Es Salaam in Tanzania. The cable will provide "an alternative high-capacity and low-latency route to the Horn of Africa and East Africa," noted Djibouti Telecom, one of the key backers of the network. Other DARE consortium members include Africa Marine Express, Telesom Company, Hormuud Telecom Somalia Inc., Golis Telecom, and Somtel Group.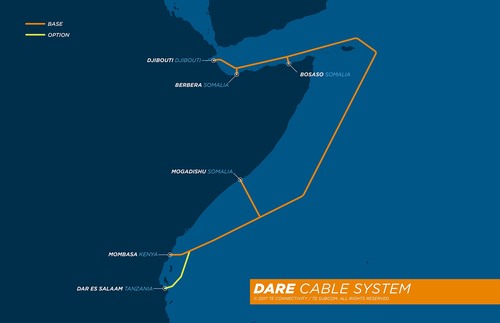 Djibouti Telecom tells Connecting Africa that the consortium plans to have the cable in commercial service by November 2019, but that it cannot disclose the cost of constructing the cable at this time.
TE SubCom is building a 100G-based cable system with up to 30 Tbit/s of capacity: The cable will comprise a two-fiber pair trunk, with each trunk fiber pair boasting cross-sectional capacity of 150 channels at 100 Gbit/s.
"With high-capacity and low-latency, the DARE system will offer an alternative route to East Africa and the Horn of Africa, easing congestion across existing systems, promoting competition and supplying much needed capacity to a rapidly expanding region," stated M Mohamed Assoweh Bouh, Djibouti Telecom General Manager, in a press statement issued in late December. "We are confident in TE SubCom's superior technology and operational expertise and look forward to launching the implementation phases of the project."
Sanjay Chowbey, President of TE SubCom, added: "Our selection as supplier demonstrates our commitment to the regional short-haul marketplace and we are very pleased to partner on the DARE project to deliver this system that will stimulate growth in the region by providing robust, reliable and low-latency connectivity. TE SubCom is proud that DARE has entrusted our team with the responsibility to make their project a reality."
The project is further evidence of Djibouti's critical role in connecting East Africa to Europe, Asia and the Middle East. (See PEACE Subsea Cable Set for Late 2019 Launch and The Making of Africa's Most Strategic Bandwidth Hub.)
— Ray Le Maistre, International Group Editor, Light Reading, for Connecting Africa