Safaricom Rolls Out FTTH, Eyes Smart Home Opportunity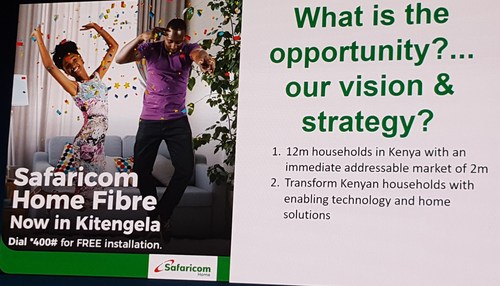 Safaricom has officially launched its "Fibre To Home Regional Roll Out Plan" that will see the network operator aim to deliver ultra-broadband services to hundreds of thousands of homes across Kenya and, ultimately, deliver value-added services such as TV and smart home applications.
The operator, which says it currently has 95,000 homes connected to fiber, believes its total addressable market for fiber broadband is 2 million homes, about 17% of the country's households, according to the operator's director of products and services for consumer business unit, Franklin Kano Ocharo, who gave a presentation on the plans during the recent Operations Transformation Forum organized by Huawei Technologies.
He noted that Kenya has a very young population that is consuming increasing volumes of data, much of which runs over fixed-line connections. "They snack on mobile, binge on fixed," he noted.
So Safaricom is aiming to capture an important slice of the fixed broadband market by building a provisioning and activation process that is as easy and quick as possible for customers, including even same-day installation whenever possible.
The operator also engaged in a number of market research projects with specialist companies and with Huawei, which has supplied its OSS software to the operator to support the FTTH rollout, network management and service delivery.
"Customers' insights reveal that access to reliable and convenient internet in the home has become increasingly critical, and this for us presents a huge opportunity," noted the company's director of regional sales and operations, Steve Okeyo, in an official statement. "Our plan is to ensure that every customer that needs fibre connectivity at their homes across the country can access it affordably and at zero installation cost," he added.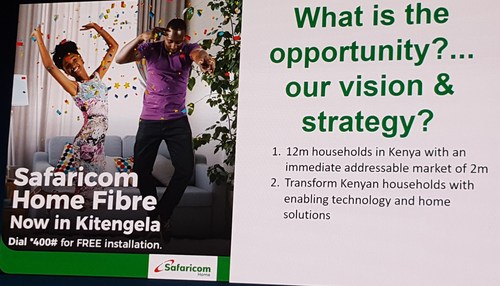 Customers are able to choose from a range of service options, from Kshs2,500 per month for a connection of up to 5 Mbit/s to Kshs9,999 per month for up to 40 Mbit/s.
The first phase of the rollout is in Kitengela town and the surrounding area, targeting 14,000 homes with a plan to reach 40% penetration within the next three months. Other towns targeted in this phase include Athi River, Buruburu, Ngong Road, Runda, Ruaka and Karen.
The aim initially is to provide Internet access services but then introduce fixed-mobile convergence services, TV over broadband and, ultimately, a range of smart home services.
— Ray Le Maistre, International Group Editor, Light Reading for Connecting Africa.