Africa Set for 100 4G Networks by Year End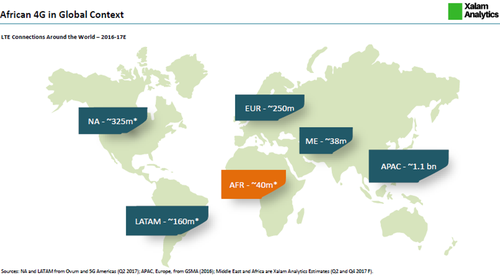 Following a slightly slower than expected rollout of next-generation mobile broadband networks across the continent, Africa is in line to have more than 100 commercial 4G LTE networks by the end of 2017 and about 40 million 4G users, according to Xalam Analytics data shared during a live Connecting Africa webinar held on October 3.
During the webinar, The State of African 4G, Xalam Analytics Managing Director Guy Zibi noted that the number of countries with 4G services is in line with expectations -- by the end of this year only about 15 of Africa's 50+ countries will not have a commercial LTE network in operation -- but the number of operators that have launched LTE services has been lower than anticipated, with the cost and availability of spectrum the main issue.
Zibi went on to analyze the challenges associated with spectrum availability and pricing, the potential for 4G availability to impact Africa's digital divide, the business models deployed by 4G service providers and why Africa's mobile operators should focus on their LTE plans and not be distracted by 5G activity happening elsewhere in the world.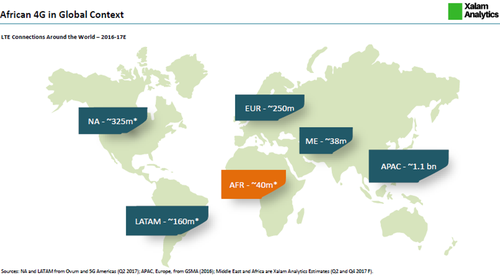 You can access an archive of the webinar, The State of African 4G, here.
Zibi will be turning his attention to Africa's cloud services and data center market in the next Connecting Africa webinar, Cloud Demand and The African Data Center Market, which takes place on Thursday November 2.
— Ray Le Maistre, International Group Editor, Light Reading for Connecting Africa.