Level 3 Adds to Africa's Cloud Service Options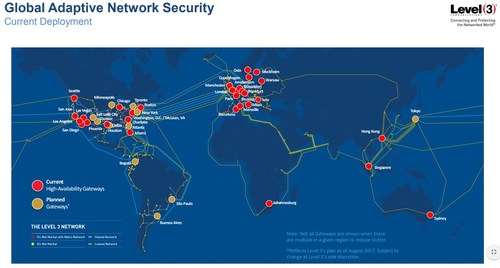 In yet another sign that the cloud services market in Africa is attracting major global service providers, international network operator Level 3 has extended its cloud-based Adaptive Network Security into Africa.
Level 3 Communications Inc. (NYSE: LVLT), best known for its wholesale and enterprise service offerings in North America and Europe, has long targeted network security services as a market where it can build a strong position and brand awareness. (See Level 3 Launches Adaptive Threat Intelligence and (See Level 3 Makes Security a Network Matter.)
Having invested in dedicated security centers and launched a number of security services, Level 3 is now extending the reach of its Adaptive Network Security service beyond the operator's core markets into Africa and Asia-Pacific. (See Level 3 Expands Its Security Services Footprint.)
Adaptive Network Security enables customers to deploy a cloud-based firewall solution in a way that suits their networking and bandwidth choices, "to support a number of hybrid-networking scenarios" that includes headquarters, data centers, branch offices and remote mobile workers, according to Level 3, which is about to be acquired by number-three US network operator CenturyLink in a $34 billion deal. (See CenturyLink Splashes $34B on Level 3 Buy.)
As a cloud-based service, it breaks the customer's dependency on a hardware-based security solution and offers customized configuration of the security options as well as constantly updated features: Level 3 says it "monitors over 1.3 billion security events across 94 billion NetFlow sessions daily, in addition to activity by over 5,000 command and control servers (C2s) and malicious IPs, creating rules to detect and block attacks."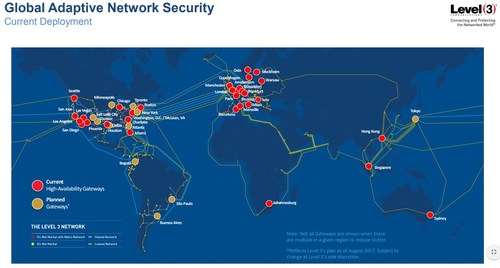 Cloud services are set to become big business across Africa as data center facilities expand and network investments lead to the greater availability of the trustworthy connections required for cloud services delivery. This topic will be the focus of an upcoming webinar, "Cloud Demand and The African Data Center Market," hosted by Connecting Africa: To find out more about the webinar, which is free to join, click here.
For more on the cloud services market in Africa, see:
— Ray Le Maistre, International Group Editor, Light Reading for Connecting Africa.