BitPesa, which runs a blockchain-based Bitcoin payment processing platform for Africa, has raised additional Series A funding that takes its total investments to $10 million.
The company, which runs a decentralized online payment platform using blockchain technology to enable cross border business payments to, from and within sub-Saharan Africa, had initially raised $2.5 million in its Series A funding round led by Greycroft Partners in January this year.
Now, though, investors have added to that Series A round with a further $4.25 million injection that again featured Greycroft as the lead and introduced early-stage venture investor Plug and Play as a new participant. The new top-up takes BitPesa's total investment to date to $10 million.
BitPesa, which was launched in late 2013 and which has offices in Nairobi, Lagos and London, claims to have grown its business by 25% month-on-month for the past two years and currently operates in a number of African countries, including Nigeria, Uganda and Tanzania. And it's that level of growth that has attracted additional investment interest, says the company's founder and CEO, Elizabeth Rossiello.
"We keep raising because we have grown above and beyond projections," she noted in an official statement about the new funding. "We have expanded across Africa and Europe, added a stellar roster of Fortune 100 companies as clients and are receiving growing support from regulators. Global companies trading in Africa see the immediate value and efficiency of using BitPesa, as they know the pain of using existing cross-border payment services in these markets," she added.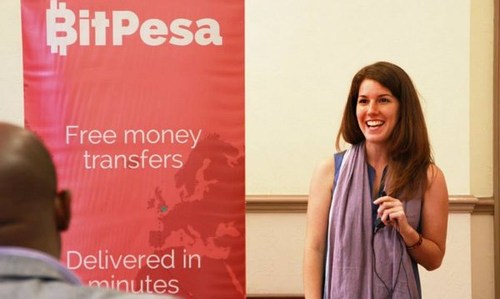 Nairobi-based Rosiello, it seems, is quite the cryptocurrency expert. She is a founding member of the World Economic Forum's Future Council Blockchain Committee, which, according to BitPesa, "explores how blockchain could impact industry, governments and society in the future, and designs innovative governance models that ensure that their benefits are maximized and the associated risks kept under control."
The team at Greycroft, as you'd expect, is bullish about the prospects for BitPesa. "Bitcoin and cryptocurrency will play an important role in the payments and money transfer industries and even more so in the developing world for which BitPesa is ideally positioned," said Alan Patricof, founder and managing director of Greycroft.
Scott Robinson, VP at Plug and Play, added: "BitPesa promises to revolutionize the exchange and payment markets in Africa, disrupting monopoly incumbents and opening the fastest growing economies in the world to foreign companies. We're very excited for the team's vision and current execution which bolsters payment avenues throughout the region."
BitPesa isn't the only company looking to use blockchain capabilities to enable cryptocurrency payments in and out of Africa -- BitMari, PayFast and PayPlux all offer cryptocurrency-based remittance services in Africa -- but BitPesa's focus on enabling business payments between multiple African markets and beyond to other key trading nations, particularly China, has certainly attracted the attention of seasoned investors as well as users.
— Ray Le Maistre,
, International Group Editor, Light Reading for Connecting Africa.