Microsoft Plans Cloud Services Launch in Africa in 2018

Microsoft is to offer a range of cloud services to users in Africa from two major data centers located in South Africa that are due to come online in 2018.
Microsoft says it will deliver cloud services, including Microsoft Azure, Office 365 and Dynamics 365, from data centers in Johannesburg and Cape Town, South Africa, a move that is "a recognition of the enormous opportunity for digital transformation in Africa."
According to Microsoft, many current cloud services users in Africa are having their services delivered from data centers located outside of the continent. "We're excited by the growing demand for cloud services in Africa and their ability to be a catalyst for new economic opportunities," noted Scott Guthrie, executive vice president for cloud and enterprise at Microsoft. "With cloud services ranging from intelligent collaboration to predictive analytics, the Microsoft Cloud delivered from Africa will enable developers to build new and innovative apps, customers to transform their businesses, and governments to better serve the needs of their citizens," he added.
For more on this development, see Microsoft Eyes Azure Cloud Expansion in Africa at our sister site, Enterprise Cloud News.
— Ray Le Maistre,
, International Group Editor, Light Reading for Connecting Africa.
Tuesday, October 3, 2017
2:00 p.m Cape Town / 1:00 p.m London / 8:00 a.m New York
4G is fundamentally altering the African broadband landscape, driving changes in pricing models and ushering in a new breed of players. As more African operators struggle with finding the optimal balance of affordable pricing and service profitability, and as traffic volumes continue to explode, this webinar will take stock of 4G developments in the region.
Thursday, November 2, 2017
2:00 p.m Cape Town / 1:00 p.m London / 8:00 a.m New York
Available data center white space has doubled over the past five years and has been growing by an average of around 15% annually. This webinar will assess this transformation, and provide a window into what the expanding demand for cloud services means for the future of the African data center market.
Thursday, November 16, 2017
2:00 p.m Cape Town / 1:00 p.m London / 8:00 a.m New York
FTTH rollout has accelerated across Africa, driven by increased availability and consumption of bandwidth-hungry content, from video streaming services to cloud-based enterprise applications. This webinar will provide an overview of key trends in this burgeoning sector, along with some perspective on the status of deployments, economic feasibility and competition with alternative broadband access technologies (mobile broadband in particular).
All resources

September 20-21, 2017, Lagos Oriental Hotel, Lagos, Nigeria

November 6-10, 2017, Cape Town International Convention Centre (CTICC), Cape Town, South Africa
All Upcoming Live Events
Safaricom Spark Fund Portfolio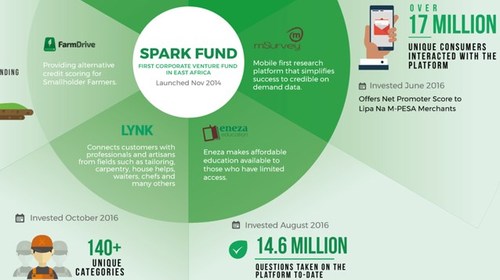 Infographics archive