Content posted in September 2017
Nigerian Telecoms Resiliency and Re-Emergence in the Face of Recession

Information Resources
9/15/2017

Xalam Analytics and Connecting Africa outline the performance of Nigeria's telecoms and broader tech sector in the face of the country's recession and highlights key areas of upside for the market, which has continued to grow, show promise, and which will be critical to vault Nigeria back to its place as one of Africa's most dynamic telecoms markets. Download this free report to understand more about the Nigerian telecoms market today.
Working with Telkom Kenya, Alphabet subsidiary Loon is to add another ground station to expand its coverage.
Kenya's leading mobile operator is deploying technology from Israeli vendor Allot to make its network more secure and enhance the quality of experience (QoE) it can deliver to its customers.
At the second time of asking, Kenya's second- and third-largest mobile operators agree a merger deal to create a stronger rival to Safaricom.
The operator would improve its financial position if Nigerian digital e-commerce giant Jumia lists its shares on the New York exchange.
Huawei Marine has finished the upgrade of the world's longest 100G undersea cable, which links West Africa with Europe.
All resources
Safaricom Spark Fund Portfolio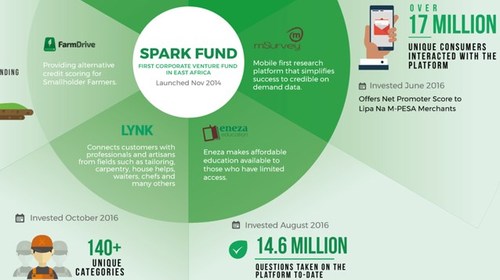 Infographics archive