Content posted in June 2017
The Xalam Africa 4G Spectrum Value Report

Information Resources
6/27/2017

Africa is sitting on a wealth of 4G spectrum assets, but how much is that spectrum actually worth? And, perhaps more importantly, what is its true value to the operators that are awarded 4G licenses? This report looks at whether 3G spectrum investments in Africa represented value for money, examines the value of the various 4G spectrum bands and examines the 4G value proposition for Africa's mobile operators. Register now to download this report for free.
The Connecting Africa Country Guide: Part 1

Information Resources
6/9/2017

Africa accounts for almost 13% of the world's mobile connections, but which of the continent's 50+ countries are the hotbeds of cellular activity? And which mobile operators are dominating those markets? This is the first in a series of reports that takes a snapshot look at Africa's mobile markets, identifies the key mobile operator players and provides a brief overview of significant mobile sector developments. In this report we focus on Cameroon, Egypt and Kenya.
French telecom incumbent may expand its African footprint by acquiring a stake in Ethio Telecom or snapping up a new license, says company's CFO.
The South African mobile operator is offloading its enterprise businesses in Nigeria, Zambia, Angola, Ghana and Cote d'Ivoire.
French operator is pushing into new data, money and business opportunities as the mainstream voice business shows signs of exhaustion.
Cyril Ramaphosa said that within the next month, the communications minister will issue the policy direction to commence South Africa's long-awaited spectrum licensing process.
South Africa's new merged communications and telecoms departments will be known as the Department of Communications and Digital Technologies.
All resources
Safaricom Spark Fund Portfolio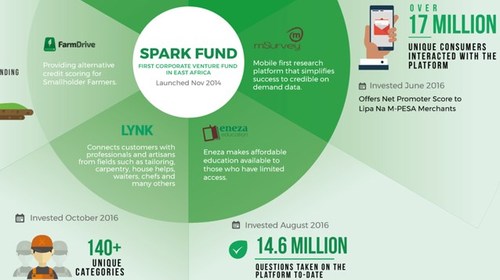 Infographics archive