Content posted in June 2017
The Xalam Africa 4G Spectrum Value Report

Information Resources
6/27/2017

Africa is sitting on a wealth of 4G spectrum assets, but how much is that spectrum actually worth? And, perhaps more importantly, what is its true value to the operators that are awarded 4G licenses? This report looks at whether 3G spectrum investments in Africa represented value for money, examines the value of the various 4G spectrum bands and examines the 4G value proposition for Africa's mobile operators. Register now to download this report for free.
The Connecting Africa Country Guide: Part 1

Information Resources
6/9/2017

Africa accounts for almost 13% of the world's mobile connections, but which of the continent's 50+ countries are the hotbeds of cellular activity? And which mobile operators are dominating those markets? This is the first in a series of reports that takes a snapshot look at Africa's mobile markets, identifies the key mobile operator players and provides a brief overview of significant mobile sector developments. In this report we focus on Cameroon, Egypt and Kenya.
The Nigerian company Teleology has acquired a majority share in struggling UTL for US$71 million.
Frustrated with at times contradictory financial demands from the Nigerian authorities that run to US$10.1 billion, MTN has taken the issues to court.
AI is already having an impact in Africa, which is why the AI Summit is coming to AfricaCom in Cape Town this November.
The South Atlantic Express (SAEx) project, which aims to connect the Americas and Asia via South Africa, has reached the study, survey and permission phase, with Alcatel Submarine Networks looking into the details.
A new fiber connection between Cape Town and Cairo could halve latency and bring new connectivity services into African markets.
All resources
Safaricom Spark Fund Portfolio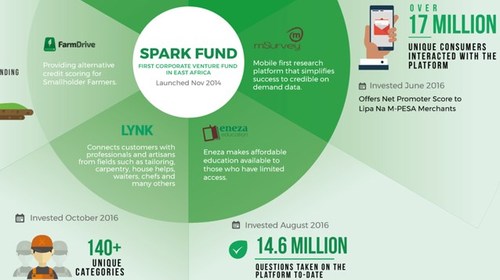 Infographics archive