Content posted in June 2017
The Xalam Africa 4G Spectrum Value Report

Information Resources
6/27/2017

Africa is sitting on a wealth of 4G spectrum assets, but how much is that spectrum actually worth? And, perhaps more importantly, what is its true value to the operators that are awarded 4G licenses? This report looks at whether 3G spectrum investments in Africa represented value for money, examines the value of the various 4G spectrum bands and examines the 4G value proposition for Africa's mobile operators. Register now to download this report for free.
The Connecting Africa Country Guide: Part 1

Information Resources
6/9/2017

Africa accounts for almost 13% of the world's mobile connections, but which of the continent's 50+ countries are the hotbeds of cellular activity? And which mobile operators are dominating those markets? This is the first in a series of reports that takes a snapshot look at Africa's mobile markets, identifies the key mobile operator players and provides a brief overview of significant mobile sector developments. In this report we focus on Cameroon, Egypt and Kenya.
There's talk of a complex merger in Kenya between Safaricom's two main rivals but warning bells should sound for the regulator.
South African operator has teamed up with Microsoft to offer the tech giant's Azure cloud services starting in June.
Fintech startup is the first African fintech company to attract investment from a Chinese venture capital firm.
Topics such as expanding infrastructure sharing to the radio access network (RAN) and opening up the market to open source-based network infrastructure are far more relevant to Africa than 5G, argues Bradley Shaw.
GSMA launches global mobile money certification scheme and four of the first five operators to be certified are from Africa.
All resources

May 15-16, 2018, Radisson Blu, Nairobi Upper Hill, Kenya

July 10-11, 2018, Radisson Blu Hotel, Dakar Sea Plaza, Senegal

November 13-15, 2018, CTICC, South Africa
All Upcoming Live Events
Safaricom Spark Fund Portfolio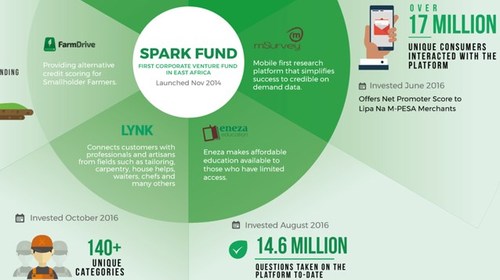 Infographics archive