Content posted in May 2017
Championing the Internationalisation of Tech SMEs in East Africa

Information Resources
5/11/2017

From building a more conducive ecosystem for SMEs to thrive, becoming a key driver for tech innovation and women-owned businesses, to facilitating effective public-private partnerships – This white paper explores how the International Trade Centre (ITC), joint agency of the World Trade Organisation and the United Nations, is pioneering IT and IT-enabled services in East Africa.
To compensate his reduction of tax on petroleum products, Uhuru Kenyatta is bumping up tax on phone calls and internet use.
Major Indian telco is believed to have appointed banks to coordinate the IPO of its African business.
Using WiMax to connect sparse populations in rural areas could be an efficient route to providing Internet access for other markets too.
The new undersea South Atlantic Inter Link (SAIL) fiber connection, built by Huawei Marine, is the first of its kind to directly connect Africa and Latin America across the south Atlantic.
The pilot network delivered a download speed of 1.7 Gbit/s.
All resources
Safaricom Spark Fund Portfolio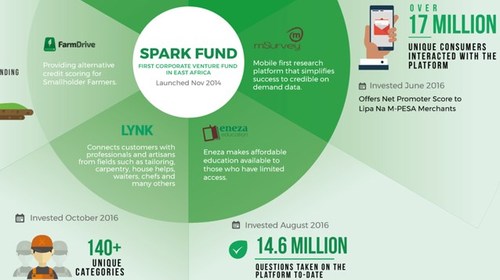 Infographics archive