Content posted in May 2017
Championing the Internationalisation of Tech SMEs in East Africa

Information Resources
5/11/2017

From building a more conducive ecosystem for SMEs to thrive, becoming a key driver for tech innovation and women-owned businesses, to facilitating effective public-private partnerships – This white paper explores how the International Trade Centre (ITC), joint agency of the World Trade Organisation and the United Nations, is pioneering IT and IT-enabled services in East Africa.
The head of the republic intervened when the new licensee had been judged to be failing to meet the requirements of the bidding process.
Contrary to some media reports, Kenya's Communication Authority will not disconnect improperly registered SIMs on May 18.
The mobile sector is responsible for 8.7% of West Africa's GDP, according to industry body the GSMA.
Google's first AI lab was officially opened in Accra.
The local company beat off plenty of competition to land the country's fourth multiservice license.
All resources
Safaricom Spark Fund Portfolio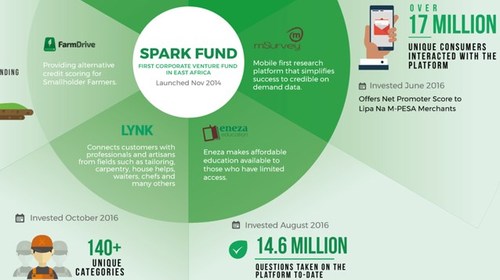 Infographics archive