Content posted in March 2017
African Tech Startups Funding Report 2016

Information Resources
3/21/2017

African tech startups raised funding in excess of US$129 million in 2016, with the number of startups securing funding up by 16.8% compared to the previous year, according to Disrupt Africa's recently released African Tech Startups Funding Report 2016. This document provides a link to the report's summary and a 25% discount code that's exclusive to registered users of Connecting Africa.
The African FTTH Boom

Information Resources
3/13/2017

Last-mile fiber dynamics, economics and outlook in African markets.
Collaboration, Cooperation & Co-Creation

Information Resources
3/6/2017

Connecting Africa and La French Tech have teamed up to produce a report which provides a spotlight look into the African startup ecosystem and how cross-border collaboration has successfully facilitated economic and social development on the African continent.
South African operator teams up with Microsoft to launch a range of Azure cloud services to enterprise users.
CloudFront, Amazon's content delivery network (CDN), now has a point of presence in Johannesburg.
Google says it will open a facility dedicated to artificial intelligence (AI) research and its applications in Accra, Ghana, later this year.
Chinese vendor Huawei has facilitated a US$200 million loan deal from Chinese financial institutions to help fund Telecom Egypt's 4G network rollout, including core and transport network technology deployments.
Mobile operator begins process that values the company at more than US$2.1 billion.
All resources

July 10-11, 2018, Radisson Blu Hotel, Dakar Sea Plaza, Senegal

November 13-15, 2018, CTICC, South Africa
All Upcoming Live Events
Safaricom Spark Fund Portfolio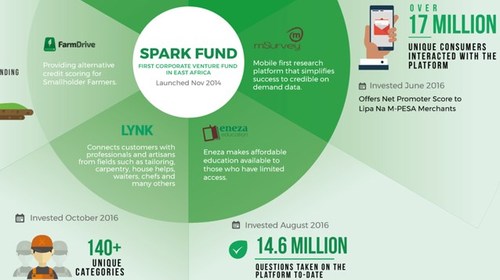 Infographics archive