Content posted in March 2017
African Tech Startups Funding Report 2016

Information Resources
3/21/2017

African tech startups raised funding in excess of US$129 million in 2016, with the number of startups securing funding up by 16.8% compared to the previous year, according to Disrupt Africa's recently released African Tech Startups Funding Report 2016. This document provides a link to the report's summary and a 25% discount code that's exclusive to registered users of Connecting Africa.
The African FTTH Boom

Information Resources
3/13/2017

Last-mile fiber dynamics, economics and outlook in African markets.
Collaboration, Cooperation & Co-Creation

Information Resources
3/6/2017

Connecting Africa and La French Tech have teamed up to produce a report which provides a spotlight look into the African startup ecosystem and how cross-border collaboration has successfully facilitated economic and social development on the African continent.
Huawei and the Department of Communications and Digital Technologies have announced plans to train 6,000 South African youth in 5G and fourth industrial revolution technologies.
Ericsson has appointed Fadi Pharaon as its new senior VP and head of market area Middle East and Africa.
A digital literacy program from the Vodacom Foundation, UN Women and South African Women in Farming is empowering female farmers through the use of mobile technology.
South African operator MTN is leading in terms of 4G availability in the country, according to a new report from Opensignal.
South Africa's University of Pretoria has moved its e-Learning platform into the cloud and has seen a big bump in usage, with mobile playing an important part.
All resources
Safaricom Spark Fund Portfolio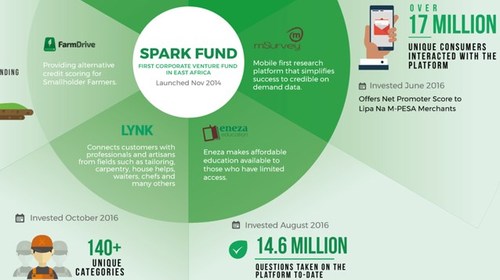 Infographics archive