Content posted in March 2017
African Tech Startups Funding Report 2016

Information Resources
3/21/2017

African tech startups raised funding in excess of US$129 million in 2016, with the number of startups securing funding up by 16.8% compared to the previous year, according to Disrupt Africa's recently released African Tech Startups Funding Report 2016. This document provides a link to the report's summary and a 25% discount code that's exclusive to registered users of Connecting Africa.
The African FTTH Boom

Information Resources
3/13/2017

Last-mile fiber dynamics, economics and outlook in African markets.
Collaboration, Cooperation & Co-Creation

Information Resources
3/6/2017

Connecting Africa and La French Tech have teamed up to produce a report which provides a spotlight look into the African startup ecosystem and how cross-border collaboration has successfully facilitated economic and social development on the African continent.
To compensate his proposed reduction of tax on petroleum products, Uhuru Kenyatta wants to bump up tax on phone calls and internet use.
Major Indian telco is believed to have appointed banks to coordinate the IPO of its African business.
Using WiMax to connect sparse populations in rural areas could be an efficient route to providing Internet access for other markets too.
The new undersea South Atlantic Inter Link (SAIL) fiber connection, built by Huawei Marine, is the first of its kind to directly connect Africa and Latin America across the south Atlantic.
The pilot network delivered a download speed of 1.7 Gbit/s.
All resources
Safaricom Spark Fund Portfolio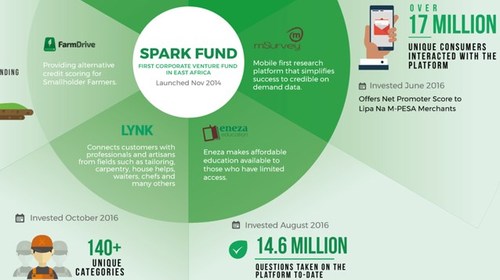 Infographics archive