Content posted in March 2017
African Tech Startups Funding Report 2016

Information Resources
3/21/2017

African tech startups raised funding in excess of US$129 million in 2016, with the number of startups securing funding up by 16.8% compared to the previous year, according to Disrupt Africa's recently released African Tech Startups Funding Report 2016. This document provides a link to the report's summary and a 25% discount code that's exclusive to registered users of Connecting Africa.
The African FTTH Boom

Information Resources
3/13/2017

Last-mile fiber dynamics, economics and outlook in African markets.
Collaboration, Cooperation & Co-Creation

Information Resources
3/6/2017

Connecting Africa and La French Tech have teamed up to produce a report which provides a spotlight look into the African startup ecosystem and how cross-border collaboration has successfully facilitated economic and social development on the African continent.
The head of the republic intervened when the new licensee had been judged to be failing to meet the requirements of the bidding process.
Contrary to some media reports, Kenya's Communication Authority will not disconnect improperly registered SIMs on May 18.
The mobile sector is responsible for 8.7% of West Africa's GDP, according to industry body the GSMA.
Google's first AI lab was officially opened in Accra.
The local company beat off plenty of competition to land the country's fourth multiservice license.
All resources
Safaricom Spark Fund Portfolio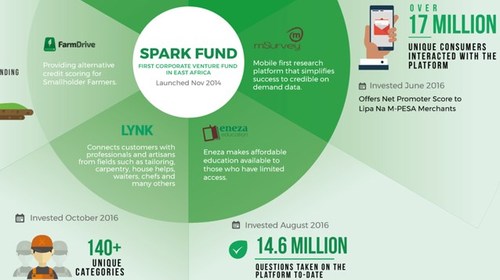 Infographics archive