Content posted in March 2019
High spectrum prices are having negative impacts on consumers, according to a new report from the GSM Association.
The Kenyan operator is trying to equip in-house staff with the skills it will need to thrive in a digital age.
Cloud services in Africa will run on both public and private cloud platforms and be provided by a mix of global players and local or regional players, finds industry analyst.
Connecting Africa's 'Cloud Evolution in Africa' webinar revealed that cloud services are a game changer for Africa and without adequate access to these services, digital transformation loses some of its depth and meaning.
With mobile tower valuations making global headlines, African operator Helios Towers dusts off its IPO papers with a planned listing on the London Stock exchange and talk of expansion.
Wednesday, October 2, 2019
2:00 PM SAST
Artificial intelligence (AI) is impacting operations across multiple industry verticals, but how can it be put to good use by communications network operators across Africa?
This webinar cuts through the hype surrounding AI to look at how it is already being used by mobile and fixed line network operators and the impact it can have an operational and business strategies.
Tuesday, October 8, 2019
01:00 PM South Africa Standard Time
The introduction of 4G mobile broadband services across Africa has been transformative for individual users, businesses and economies, as well as the continent's mobile operators, but now the world is getting excited about the potential of 5G.
This webinar looks at the evolving role of 4G across Africa and how 5G will play a role in the development of digital, connected economies.
This webinar is part of the Connecting Africa Digital Series, which is produced in association with AfricaCom.
All resources
Safaricom Spark Fund Portfolio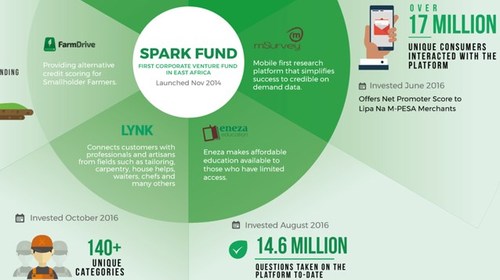 Infographics archive